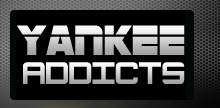 February 9, 2012 · Doug Rush · Jump to comments
Article Source: Bleacher Report - New York Yankees
When the Super Bowl ends, a lot of fans who aren't into basketball and hockey immediately turn their attention to baseball season coming back.
For me, I'm still on the high over the New York Giants winning the Super Bowl this week, but I am getting anxious for the 2012 season to kick off.
The Yankees are almost set to break camp with their 2012 roster, but they are still missing the one piece that they are searching for—the designated hitter.
Both DH's from 2011 are now gone, with Jorge Posada retiring last month and Jesus Montero being traded to the Seattle Mariners, so it leaves a hole in the Yankees' starting lineup.
Buster Olney from ESPN reported that the Yankees are in the mix for three potential candidates to be the designated hitter in 2012.
Two of them are former Yankees and fan favorites. The other is a veteran they've seen before in the playoffs.
Lets take a look at the possible DH candidates and see who might fit the best.