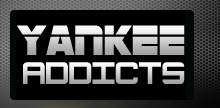 April 5, 2010 · Travis Rand · Jump to comments
Article Source: Bleacher Report - New York Yankees
I barely made the start of the game.
That should've been an omen right there.
Even though it was Easter, the local Chinese place was open, and I stopped by with my roommate to snag some Crab Rangoon, Chicken Fingers and other completely unhealthy and unnecessary snacks.
I had no idea how we could be the only people in the entire place, yet wait 20 minutes for our food. But hey, I'll cut 'em some slack.
It was Easter Sunday after all.
The Yankees, though? No slack. Two hundred million bones, and I expect to win the first game of the season, especially with our ace on the mound.
In fact, the Chinese food and the Yankees were eerily similar.
I mean, the food was great. Who doesn't like some Chinese grub late at night? And who doesn't like Opening Night of baseball season?
But in the long run the Chinese food, much like the game, was worth waiting for. Even if the outcome wasn't what I wanted. I mean, I didn't even touch the rice after the fifth inning.
Enough with the odd comparisons, let's get down to business.
The Yankees had newcomers Nick Johnson, Curtis Granderson, and Chan Ho Park all see action in the game against the hated Boston Red Sox.
Brett Gardner was the true star going 2-4 with an RBI, a run scored, and a stolen base.
What impressed me most was both of Gardner's hits came with two outs, and both went to the opposite field. His swipe of home plate was a tad flukey, and I'm sure he thanked Victor Martinez after the game for getting caught in a "little league" play.
Speaking of which, if you only threw out 14 percent of runners attempting to steal off you, and you have a man at third that will likely steal 45 bases this year with playing time, and the player at first, Derek Jeter, who stole 30 last season, why would you attempt to throw him out?
And how about not even looking down the third base line before popping out of the squat? Thankfully, Chan Ho Park would make sure Martinez didn't remember that for very long.
Sabathia ran into some trouble in the sixth inning after pitching a dominant first five, surrendering only two runs and four hits.
David Robertson came in as CC departed, lasted two thirds of an inning and threw just six pitches, all for strikes.
That's when it all hit the fan.
Park, acquired in free agency to help strengthen an aging bullpen with the exception of Robertson and Joba, got rocked around before being pulled for Marte.
In Park's defense, Dustin Pedroia is a fantastic hitter who thrives on high pitches. It was the second straight opening day in which the 5′ 6" (I don't care what the back of his baseball card says) slugger tomahawked a fast ball over the Green Monster.
Curtis Granderson also performed better than the aforementioned bullpen-killer, Park. In his first at-bat for the Bombers, Granderson cranked a Josh Beckett fastball over the center field wall.
Nick Johnson was acquired for mainly one reason. He can take a lot of pitches, drag on at-bats, and in turn, also draws plenty of walks.
Johnson did exactly that last night, despite going hitless in three at-bats. He also walked twice and saw the most pitches on the team except Granderson.
This team has the bats, and I truly believe the arms, to make a serious run. It's only the first game, but against the Sox it feels like ten.
On Tuesday, Jon Lester and AJ Burnett will square off for round two, and hopefully the Chinese food is prepared faster… I mean I hope the Yankees come away with a W.
Rejoice pinstripe fans, it is time to defend the crown.
Travis Rand is a former Community Leader for the New York Giants until school ate up his free time like Kirstie Alley at a seafood buffet. His archive can be found here . He is a strong believer in Joba Chamberlain, the future Nets owner, and his new home page .
Read more New York Yankees news on BleacherReport.com