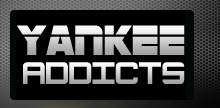 February 8, 2013 · Doug Rush · Jump to comments
Article Source: Bleacher Report - New York Yankees
Robinson Cano is a free agent after the 2013 season.
Yankee fans all know this.
The Yankees certainly know this.
And Cano's agent, Scott Boras, definitely know this.
The 30-year-old is perhaps the best second basemen in the sport and is in the prime stages of his career right now, which is why he's due for a nice payday in his next contract.
Cano has had three straight seasons where he finished in the Top 10 in the American League for the MVP Award, and has finished with over a .300 average in his last four seasons.
In 2012, Cano hit .313, slugged 33 home runs and had 94 RBI with a .379 on-base percentage. He finished fourth in the MVP voting.
Back in December, Mark Feinsand of the New York Daily News reported that there's a possibility that Cano could in fact leave the Yankees if his demands for a contract are something the Yankees think are too steep.
Since then, the debate has been whether or not the Yankees should trade Cano now and get prospects for him as opposed to letting him leave and getting nothing in return for him.
Anthony McCarron of the New York Daily News has reported that Yankees owner Hal Steinbrenner has talked to Cano and Boras about the possibility of an extension.
Hal Steinbrenner told us "there's been a conversation or two" with Robinson Cano on extension and hopes Cano is a Yankee his entire career

— Anthony McCarron (@AnthonyMcCarron) February 8, 2013
I know it's the Yankees policy to not talk extensions until the baseball season is over, but Cano's needs to be resolved now.
If Cano hits the open market, there's a very good chance that he could get anywhere from 8-10 years in a deal worth up to $200 million considering he may well be the best power hitting second basemen in baseball and also plays good defense.
With the Yankees looking to get under the $189 million mark for their payroll for 2014, the team doesn't want another contract like the one Alex Rodriguez has weighing down their payroll.
The Yankees also have to decide what to do with Curtis Granderson after 2013, but the team has a few outfielders that are being groomed in the minors, so it wouldn't be the end of the world if they let him leave.
Cano leaving would be bad for the Yankees, because none of their prospects are going to have the same level of production that Cano would.
If I were Steinbrenner and Brian Cashman, a six-year, $140 million offer is a fair offer for Cano.
He would be making $23 million a season, which is a lot, but if the Yankees can somehow get A-Rod's contract off the books, then Cano's extension doesn't weigh the team down as much.
Plus, it's not as lengthy as the ones given to A-Rod, Mark Teixeira and CC Sabathia.
Going past six years would be risky for the Yankees to pay Cano past the age of 37, if they did offer a seventh year to seal the deal, I would understand why; they did that three years ago in the Cliff Lee negotiations and did it with Sabathia as well.
But eight years and beyond? I can't see the Yankees doing that.
I know it's the job of Boras to get his client the best deal, which is why he's known as baseball's super agent and was the agent who got Teixeira and A-Rod their past deals.
But if Cano wants to stay with the Yankees, then he needs to work with the only team he's ever known and called home.
And if the Yankees want to keep their best hitter around while they are trying to compete for championships in the near future, then an extension needs to get done relatively soon.
Stay tuned, Yankees Universe.
Read more New York Yankees news on BleacherReport.com