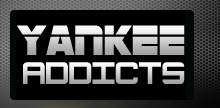 February 15, 2013 · Doug Rush · Jump to comments
Article Source: Bleacher Report - New York Yankees
The last time Yankee fans saw Chien-Ming Wang in pinstripes was almost four years ago.
After suffering a severe injury in 2008, Wang's 2009 season was marred with inconsistency and ended with season-ending shoulder surgery.
After missing all of 2010, Wang has tried to get his career resurrected with the Washington Nationals, the team whom Wang has been pitching for since 2011.
According to George King of the New York Post, the Yankees are "keeping tabs" on Wang, as he threw off a mound for Billy Connors, the Yankees V.P. of player personnel.
Wang is expected to pitch for his home country of Taiwan in the upcoming World Baseball Classic and the Yankees will be sending scouts to the WBC to scout Wang's performances.
The former Yankee prospect got off to a great start with the Bombers, posting a 55-26 record from 2005-2008.
Back in 2008, Wang suffered a season-ending foot injury while running the bases in an inter-league game against the Houston Astros; one of the many injuries to the team that cost the Yankees a shot at the playoffs.
In 2009, Wang never seemed like the ace he once was for the Yankees and struggled with his command on the mound, posting a 1-6 record with a 9.64 ERA in 12 games.
In 2012 with Washington, Wang was 2-3 with a 6.68 ERA in 10 games, five of which he made starts in.
Currently, the Yankees have six starters vying for five spots, but it can't hurt to sign Wang to a minor-league contract with an invite to spring training.
The Yankees did that with Bartolo Colon and Freddy Garcia back in 2011 and both pitchers ended up pitching past everyone's expectations; as a result Colon got a pay raise with the Oakland A's and Garcia got a major league deal with the Yankees in 2012.
Back in 2006, Wang finished second in the A.L. Cy Young voting with a 19-6 record and a 3.63 ERA.
According to King, Yankees GM Brian Cashman hasn't had contact with Wang's agent, but if he likes what he sees from his outings in the WBC, the Yankees could be tempted to bring back their former ace on a minor-league deal and see what happens in the spring.
It would be fitting if Wang got one more opportunity to pitch for the team he started with and at one time, dominated with.
Stay tuned, Yankees Universe.
Read more New York Yankees news on BleacherReport.com