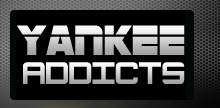 December 21, 2009 · Alex Geshwind · Jump to comments
Article Source: Bleacher Report - New York Yankees
According to Buster Olney of ESPN.com, the Yankees may be close to acquiring a starter:
Yankees working very hard tonight on deal for starting pitcher. Remember that they came close to deal for Aaron Harang in summer.
The Yankees have been busy this offseason, already landing Curtis Granderson and Nick Johnson, and have since turned their attention to the starting rotation.
They now appear to be very much in the market for another starter to add to the rotation of CC Sabathia, AJ Burnett, Andy Pettitte, and one of Joba Chamberlain/Phillip Hughes.
Assuming they acquire another starter, either Hughes or Joba will move into the 8th inning role, immediately becoming one of the three or four best setup men in baseball, and possibly the Yankees future closer, given Mariano Rivera's age and the fact that his contract runs out after the 2010 season.
The names the Yankees may be going after wary considerably, but let's go over a few of them:
Aaron Harang always seems to be on the block, or at least it's been that way for a couple of years now. Is this because Harang is a good pitcher, or because the Reds want to get him off their hands?
Last season, Harang went 6-14 with a 4.21 ERA. However, his 3.30 K/BB rate and sub-4 xFIP look pretty good given his asking price will be significantly lower than a Vazquez or even Lowe.
He is a flyball pitcher, so expecting him to dominate in Yankee Stadium is foolish, but an ERA of around/under 4 is possible, and if he throws 200 innings in New York, he'll be a good No. 3/4 starter. He could be a solid pickup for the Yankees.
Carlos Zambrano , however, wouldn't be a solid pickup. This seems like a bit of a longshot as Brian Cashman doesn't like the asking price here, but his contract is obscene and his performance, while still solid, isn't what it once was, and is in danger of completely dropping off.
Although he did improve his K rate back to early-career levels in 2009, he failed to reach the 2 K/BB rate and sub-4 xFIP levels for the fourth consecutive season.
Although he has proven he can keep an abnormally low BABIP over an extended period of time, and post ERAs in the high 3s, it still doesn't make up for his contract, and his 2009 BABIP signals a possible end to this trend.
The only thing keeping his ERA under 4 last year was an uncharacteristically low 5.6% HR/FB, which would not continue in the New Yankee Stadium.
Zambrano has some upside, however his risk of collapse is just too high, and given his contract, I'd stay away.
Ben Sheets and Joel Pineiro might be the two best pitchers on the market, and considering they wouldn't cost the Yankees any prospects, they might be the right guys for Cashman to target.
We all know what Sheets can do when healthy. He's posted FIPs under 3 twice in his career, and with the exception of 2007, and his rookie season, his FIP has always been under 4.
His career K/BB rate is 3.85, and in 2006, in over 100 innings, he posted a K/BB rate over 10. That's bordering on impossible, with 116 ks and 11 walks.
That said, he's been hurt. A lot. He's hit the DL each of the past five years, and missed the entire 2009 season recovering from major surgery.
When he's on the field, he can give you a sub-3 ERA, 200+ Ks. Basically, he's one of the best in baseball. But that's a huge risk. Obviously worth a flier, and in New York, he could win a Cy Young.
Pineiro might be the best fit for the Yankees, simply because in that stadium, the ability to keep the ball on the ground is tremendously valuable. Few did it better than Pineiro in 2009, who posted an awesome 60.5 groundball rate.
This is new for Pineiro, as he had never reached 50 percent, so some might be skeptical, however a significant increase in usage of his fastball may explain this growth.
And while his 1.14 BB rate was unprecedented, his control clearly improved from 2006, to '07, and to '08. His K/BB rate in 2007 and 2008 was 2.31.
Some regression is possible, actually extremely likely, but if he lands in New York, he could be a major asset, as although he wont miss many bats, his groundball profile and control could make him a very good No. 2 or 3 starter.
Huge risk/reward, depending on whether you believe in his 2009, but obviously a good fit for the stadium. The Yanks might be reluctant to give him the deal he wants though, as he has a shaky track record, and he's 31 years old.
If I'm the Yankees, I probably try to sign Sheets to something similar to what Harden got, if he'll go for it. He's the best pitcher out there, even though he may miss some time.
But most of these options look solid. These are all high-risk, high-reward options, so price is probably going to be the deciding factor.
This article orginally published on FantasyBullpen.com . Alex Geshwind can be reached by email (alex.geshwind@fantasybullpen.com), or on Twitter .
Read more New York Yankees news on BleacherReport.com