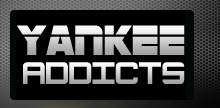 November 19, 2012 · Doug Rush · Jump to comments
Article Source: Bleacher Report - New York Yankees
It's like déjà vu all over again.
Rewind a little over two years ago to the end of the 2010 season.
The Yankees had just been eliminated in the American League Championship Series by the Texas Rangers and they headed into the offseason with their rotation in limbo.
They pursued and lost out on Cliff Lee in free agency, so they waited most of the winter to hear about Andy Pettitte's decision for the 2011 season.
After a long, drawn out process, he decided to retire in February, leaving a major vacancy in their rotation.
Fast forward to the present: After coming out of retirement to pitch in 2012 the Yankees are now awaiting Pettitte's decision regarding to the 2013 season.
According to Dan Martin of the New York Post, Pettitte's decision for the upcoming season may in fact come this week, as he could give the Yankees some sort of timetable.
Many people get the feeling that Pettitte will decide to pitch again next season after being limited to just 12 starts due to taking a line drive off his ankle in a game in late June.
Despite the injury, Pettitte had a 5-4 record with a 2.87 ERA and even though he was a 40-year-old who hadn't pitched in a full season, he looked like vintage Pettitte on the mound.
The Yankees were able to get Pettitte healthy for the postseason and he pitched very well for the Bombers in his two starts, but got no run support from the offense in either game.
Not only do many people around baseball expect Pettitte to return to the Yankees, but many of his coaches and teammates do as well.
Manager Joe Girardi, pitching coach Larry Rothschild, general manager Brian Cashman and fellow starter CC Sabathia have all gone on record saying they think the lefty will be back.
Pettitte shocked the world when he announced he was putting off retirement and signed a one-year, $2.5 million minor-league deal back in March.
After a full year away from baseball, Pettitte came down to Tampa and started out in spring training as a special instructor and that's where he got the competitive itch to put the pinstripes back on one more time.
During the regular season, he didn't look like a 40-year-old who was sitting at home for a year; he looked like the same guy who took the ball for the Yankees every fifth day for the better part of 16 seasons and gave them a quality start every single time out.
If the Yankees can get an answer out of Pettitte before the end of the month, especially if that answer is yes, then that would be great news for the Yankees.
Andy Pettitte showed everyone in 2012 that the Yankees needed him in the rotation.
They will need him for 2013 if they have any hopes of getting back to the postseason.
Stay tuned, Yankees Universe.
Read more New York Yankees news on BleacherReport.com