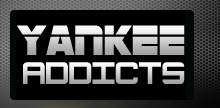 November 27, 2012 · Doug Rush · Jump to comments
Article Source: Bleacher Report - New York Yankees
The New York Yankees have been waiting on a decision from Andy Pettitte for nearly two weeks.
According to recent reports, it looks like they will get their left-handed starter back for one more year.
Buster Olney of ESPN is reporting that the Yankees will re-sign Pettitte, and it's believed to be for one year and $11 million (h/t George A. King III, New York Post).
Sources: Andy Pettitte is close to formally announcing he's coming back, and he's close to finishing a new deal with the Yankees.

— Buster Olney (@Buster_ESPN) November 27, 2012
It's a significant raise from the $2.5 million he took back in 2012, but only because he decided to come out of retirement during spring training.
Yankees GM Brian Cashman knew that Pettitte was worth the raise given how well he pitched in 2012, posting a 5-4 record with a 2.87 ERA in 12 starts.
The fact that Pettitte was limited to 12 starts after taking a line drive off his ankle in late June may have played a significant role in him coming back for another season.
After starting out in the minor leagues for two months getting himself ready, Pettitte debuted in May for the Bombers and looked like he never took a year off from baseball.
Pettitte will assume his No. 3 starter's role in the Yankee starting rotation behind CC Sabathia and Hiroki Kuroda, who also re-signed with the Yankees just before Thanksgiving on a one-year, $15 million deal.
Now with both Pettitte and Kuroda re-signed, the Yankees can focus on re-signing closer Mariano Rivera and catcher Russell Martin.
For many Yankee fans, Pettitte's 2013 return is great news.
For the Yankees organization, it's a huge relief that Pettitte will be back and helping them attempt to get back to the postseason one more time.
Stay tuned, Yankees Universe.
Read more New York Yankees news on BleacherReport.com