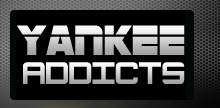 December 31, 2011 · Bill Ford · Jump to comments
Article Source: Bleacher Report - New York Yankees
Andruw Jones and the New York Yankees have come to terms and settled on a one-year contract. The agreement will not become official until Jones completes a physical.
His contract is for $2 million, plus additional potential performance incentives of $1.4 million, according to CBSSports.com.
Jones has been a benefit to the Yankees as a fourth outfielder who is able to come off of the bench cold and perform well. He is a powerful hitter and has had great success against left-handed pitching. According to Yankees.com, this may open up the possibility of Jones replacing Brett Gardner against left-handed pitchers.
During 77 games that he played in the 2011 season, Jones batted an average of .247, 13 home runs and 33 RBIs. Against left-handed pitching, he batted .286, and out of 36 hits, 16 of them he took extra bases.
Over the course of his career beginning in 1996, he accumulated 420 home runs, which makes him eighth in the major leagues. He is one of only four players who have 400 home runs or more, and 10 Gold Glove Awards.
When the 2012 season begins in April, Jones will turn 35 years old. This will be the start of his 17th season. He has continued to show that he has the ability to put up solid numbers. His age doesn't seem to be slowing him down, but at 35 years old, I think that a one-year contract was wise.
Signing Andruw Jones to keep him in pinstripes was a smart move. The Red Sox expressed some interest in Jones, but Brian Cashman played this well and kept him in Yankee blue.
In no way was this a major or blockbuster Yankee singing, but Jones delivers. He is solid, dependable and consistent. He'll have another good year.
Read more New York Yankees news on BleacherReport.com