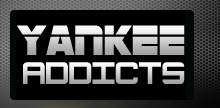 November 22, 2010 · Doug Rush · Jump to comments
Article Source: Bleacher Report - New York Yankees
For the first time in his big league career, Derek Jeter is a free agent. For the time being, he has remained one.
The Yankees captain is looking negotiate a new deal with the only team he has ever known and played for.
This past week, the Yankees submitted their first offer for three years and $45 million, which would earn Jeter $15 million per season.
For a typical 36-year-old shortstop who has had some decline, that would be considered overpaying for the player. But Jeter is not the typical shortstop.
Nope, this is the face of the Yankees. Jeter is to the Yankees what Mickey Mantle and Joe DiMaggio were to the Yankees during their respective eras.
When Jeter got a 10-year, $189 million deal, he wasn't a free agent yet, but he was also just 26 years old and entering the prime of his career,
Ten years later Jeter is still productive, but in 2010 he showed some signs of age, especially in the field.
His average dipped from .334 to .270 and his on base percentage went from .402 to .340, which might be causing the Yankees to be a little hesitant to give Jeter another huge contract.
But let's all be honest, Jeter is not going to walk away. It's just not happening.
Jeter may be in a decline, but this is by far one of the most popular and beloved players in team history. Fans from all over travel many miles and spend tons of money to see Jeter play in every city the Yankees play in.
Can you just imagine the outcry from the New York fans and media if the Yankees decided to let Jeter walk away and go to another team?
Letting Bernie Williams go was hard on the fans. Letting Joe Torre walk away was even harder. But letting Derek Jeter go? It won't happen, because this guy means way too much to the organization.
Baseball contract wise, Jeter can earn a very good salary from the Yankees. Endorsement wise, Jeter can still earn a ton of money because he is still a very marketable figure. We've all seen his Ford Edge commercials on YES during the season; you can only imagine what he makes from those commercials and endorsements.
Plus, Jeter has a chance to make baseball and Yankee history in 2011.
Jeter is currently at 2,926 hits, 74 away from 3,000, which is usually an automatic bid into the Hall of Fame. Jeter would become the first Yankee in team history to ever hit for 3,000 hits while a member of the team.
The Yankees made a big deal when Alex Rodriguez was going for 500 and 600 career home runs. Can you imagine the press and publicity the Yankees will put forth when Jeter will be chasing 3,000 hits? For the Yankees, because it is their captain and the face of the franchise, this will mean so much to them.
Letting Jeter go to any other team and having him get his 3,000th hit elsewhere in 2011 would be a black eye to the team and fans who have supported Jeter for 15 years.
Right now, it might seem like the Yankees and Jeter are far apart in contract negotiations, but it's not like the Yankees gave Jeter one offer and said "take it or leave it." That's not happening here.
The Yankees started him out with a $15 million-per-year deal and will work from there, and they will work as long as it will take to get Jeter back in pinstripes.
When you really look deep down, the Yankees want Jeter back, and vice versa. All that matters now is the dollars and years. But make no mistake, Derek Jeter will be with the Yankees in 2011.
Hal Steinbrenner doesn't want to be known as the owner who got rid of Derek Jeter and subsequently suffer some major backlash from the fans. Hal knows how important Jeter is to the Yankees. He knows the Yankees need him.
Everyone needs to relax about the contract negotiations, because one way or another, the Yankees and Jeter will work this all out. When it is all set and done, Jeter will re-sign with the Yankees.
Read more New York Yankees news on BleacherReport.com