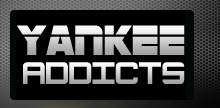 February 16, 2012 · Stephen Skinner · Jump to comments
Article Source: Bleacher Report - New York Yankees
George, we need you. Your New York Yankees aren't the team they once were when you were our unchallenged leader. Sure, you made mistakes, but you always bounced right back up trying again.
I know you trusted your offspring to preserve your legacy, but while they began the "new era" strong, they've drifted away from the "damn the costs, I want the best product on the field" approach that you had fine-tuned into an art form.
Lately, all we Yankee fans hear about is how the team is sticking to a budget. George, they are even passing on top-notch talent (Cliff Lee, Carl Crawford, CJ Wilson, Zach Greinke) all in the name of saving a buck!
Instead, they are trying to squeeze whatever talent is left out of players in the farthest reaches of the twilight of their careers (Bartolo Colon, Freddie Garcia).
Sure, last season they over-rode our GM Brian Cashman to throw bags of money at Raphael Soriano. It has so far shown to be a bust but, it showed flashes of you at your best and I had hope!
Unfortunately, it appears that "mistake" has caused your boys to curl up in their shell and stick to their budget this year.
As I write this, the Yankees are in the midst of trying to find a designated hitter. Even though there are some good ones available (Raul Ibanez comes to mind), they are trying to first unload a large salary (AJ Burnett) before really making an effort to obtain one!
George, your "ready, fire, aim" philosophy is being discarded by Hank, Hal and yes, even Brian. How dare they mess with your formula?
As a New York Yankee fan, I had grown accustomed to my team doing whatever it took to get the best player at every position. Money was NEVER a barrier to obtaining a coveted free agent.
Sadly, Mr. Steinbrenner, your sons appear to be more interested in turning a profit than giving us the highest quality product.
What made you so special to Yankee fans and, so unique among virtually all baseball ownership was the fact that you were willing to lay it all on the line to win. You endeared yourself to the Yankee faithful by hating to lose.
It was never about doing what was best for baseball or, what was best for the business. It was ALWAYS about doing what was best for the Yankees.
As each year passes by without you, we realize just how lucky we were to have you. Please talk to your boys, Mr. Steinbrenner, before it's too late.
Read more New York Yankees news on BleacherReport.com