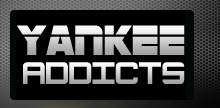 February 17, 2012 · Doug Rush · Jump to comments
Article Source: Bleacher Report - New York Yankees
Finally!
A.J. Burnett is finally getting traded.
All week long, we all speculated as to whether Burnett would get traded before the Yankees self-imposed Saturday deadline, and he is, in fact, on his way.
According to Ken Rosenthal of FOX Sports, the Yankees will send Burnett and $20 million to Pittsburgh.
The Pirates will send two moderate-level prospects back to the Yankees, while only being on the hook for $13 million of Burnett's deal.
Joel Sherman of the New York Post said that right-handed pitcher Diego Moreno is one of the prospects heading over to the Yankees in the deal.
It's been a rocky stint for Burnett since arriving in the 2009 season. He started out well with a 13-9 record in 2009, but since then, went 21-26.
He had a couple of games where he pitched well in the postseason, like in Game 2 of the 2009 World Series and Game 4 of the 2011 ALDS, but for the most part, Burnett was as inconsistent as a pitcher could be.
Going over to the National League, Burnett should pitch better, facing weaker lineups.
Burnett will need to pass his physical with Pittsburgh, and because there is a lot of money being exchanged between the Yankees and Pirates, the league will have to approve of the deal.
But for right now, A.J. Burnett will not be a Yankee, he will be a Pirate in the 2012 season.
For a lot of Yankee fans, it's good news all over, because after the last two seasons, Burnett wore out his welcome in the Bronx.
Read more New York Yankees news on BleacherReport.com