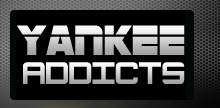 February 16, 2012 · Brian Buckley · Jump to comments
As March rapidly approaches, the New York Yankees are almost finished completing their 2012 squad. While the probable A.J. Burnett trade looms over the club, they are steadfast in dotting every "i" and crossing every "t." In fact, the only realistic acquisition questions revolve around the DH spot.
Yes, that illustrious advantage that the American League has over the senior circuit, in which the game is severely unbalanced, but that's a discussion for another time.
Regardless of any designated debate, the Yankees need to plug the stationary hole in an effort to make this team a winner. Former Yankees Hideki Matsui and Johnny Damon have been mentioned as possible candidates, along with 39-year-old outfielder Raul Ibanez.
However, in selecting the best choice, Brian Cashman needs to approach the options with caution. Even though the final piece of the Yankee puzzle might not be the most high profile, prudence and vigilance must still be applied.