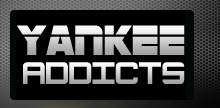 February 21, 2013 · Doug Rush · Jump to comments
Article Source: Bleacher Report - New York Yankees
You can never have enough pitching.
It's an old phrase you will hear just about everyone in baseball utter at one point or another in a season.
And up until this past week, the New York Yankees' starting rotation seemed to be just fine.
However, in wake of the bulging disc in Phil Hughes back, which will require him to sit out at least two weeks, the Yankees may be looking around for pitching depth, according to Joel Sherman of the New York Post.
Right now, it's just two weeks that the Yankees want to give Hughes a lay-off from baseball, but what if the injury gets worse? Hughes is slated to be the Yankees' No. 4 starter in 2013.
Now, Yankees GM Brian Cashman has already said that he has no interest in former Cardinals starter Kyle Lohse because obtaining Lohse would cost the Yankees their first-round draft pick.
However, there are plenty of cheap options that are still available on the free-agent market that the Yankees could look at if they need depth.
And it wouldn't cost them any prospects either in any kind of deal.
Let's take a look at who Cashman could still sign for 2013.