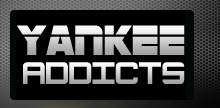 January 2, 2013 · Doug Rush · Jump to comments
Article Source: Bleacher Report - New York Yankees
First and foremost, I'd like to wish all of you a Happy New Year.
As the calendar turned to 2013 on Tuesday, the New York Yankees are still without a starting catcher.
I'm not looking at any of the current options the Yankees have on their roster as a starting catcher.
Francisco Cervelli was sent down to the minors right before the 2012 season started, and he is a career backup.
Chris Stewart is another career backup, and spent most of 2012 behind Russell Martin
They also have Austin Romine, who is in the minors and spent most of 2012 injured. Right now, he's not seen as a starter.
The Yankees also brought in a former Angels backstop, Bobby Wilson, on a minor-league deal as another backup.
If you ask me on January 2, I do not see any of these four players being the starting catcher for the Yankees on Opening Day of 2013.
Here are five potential catcher options for Yankees GM Brian Cashman.