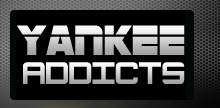 January 18, 2013 · Doug Rush · Jump to comments
Article Source: Bleacher Report - New York Yankees
Heading into the 2013 season, the New York Yankees lineup has quite a few holes in it.
Yet, there's a good chance that the roster as is could be the one we see come April.
Of course, the Yankees could make a few moves before or during spring training, but the team's moves have been so few and far between this winter, there's serious doubt if the Yankees will actually do anything else this winter.
Which means the lineup for Joe Girardi is going to look a lot different from the one he put out a year ago.
No more is Russell Martin, Nick Swisher and Raul Ibanez. who all left via free agency.
Lets take a look at the different lineups we may see during the year from the 2013 New York Yankees.