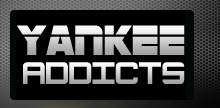 December 31, 2011 · Bill Ford · Jump to comments
Article Source: Bleacher Report - New York Yankees
New York Yankee fans have been blessed with a successful baseball dynasty for quite some time. The occasional bump presented itself and has led to some problems since 1996, but overall, the Yankees have been a major baseball force.
The Yankees organization is filled with talent galore, with pitching, catching, fielding, hitting and base-running. Popular players have come and gone, but core players have remained.
Great talent will come up from the farm system, but what about the older players who have been the backbone of the Yankees? How much longer can they play effectively and productively as they age?
Jorge Posada will likely either retire or end his career elsewhere. Let's hope that he chooses retirement and goes out as a Yankee.
Derek Jeter, Alex Rodriguez and Mariano Rivera are three of the best players in Major League Baseball. They have collectively been the heart and soul of the Yankees. As they age, what can they do to keep their edge and remain competitive in the 2012 season?
Some of the keys to aging Yankees remaining competitive may seem very simple and obvious, but these keys are crucial and essential. Let's take a look.