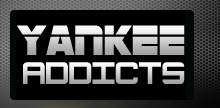 October 23, 2010 · Doug Rush · Jump to comments
Article Source: Bleacher Report - New York Yankees
The Yankees 2010 season is now officially over.
There will be no ticker-tape parade down the Canyon of Heroes in November. There will be no celebrating the 28th World Series Championship at Yankee Stadium in the Bronx.
After the Rangers defeated the Yankees 6-1 in Game Six of the ALCS, all the Yankees have in the winter is a bitter defeat by a team that outplayed them in the series and a lot of questions surrounding their team.
But first, to be fair and a good sport, I must congratulate the Texas Rangers for advancing to their first ever World Series. They outplayed the Yankees in five of the six games and were the better team, no other way to describe it.
For a guy like Vladimir Guerrero, who has been one of the best players in the game for years without a chance to play in the Fall Classic, it's nice to see. And for a guy like Josh Hamilton, who overcame drug and alcohol addictions to be the ALCS MVP (and possibly the American League MVP as well), it was also nice to see.
Now, with that being said, it is time to try and figure out the burning question, what the hell went wrong with the Yankees in that series?
1. The starting pitching.
In 2009, CC Sabathia, A.J. Burnett and Andy Pettitte went a combined 8-2 in the postseason, which was crucial to them winning the World Series.
In 2010, Sabathia, Burnett, Pettitte and Phil Hughes went a combined 3-4 in the postseason, which didn't get it done.
Sabathia wasn't as dominant like he was last year, but he still pitched well enough to keep the Yankees in every game he was in.
Burnett was AWFUL in 2010, going 10-15 with an ERA over 5-plus. He was even skipping starts because of his inconsistency.
Pettitte might have been the best pitcher in the playoffs for the Yankees, and in Game Three, battled Cliff Lee as best as he could, allowing just two runs in seven innings. The offense didn't give him an ounce of support.
Hughes was dreadful. After pitching lights out against Minnesota, he simply did not pitch well in Game Two and Six and the Rangers made him pay for all his mistakes.
With Burnett being too inconsistent, Pettitte's uncertainty of pitching in 2011 and Javier Vazquez being banished from the roster, the Yankees are all but certain to go hard after Cliff Lee in the offseason, and it's already been said that Lee's best friend Sabathia, will recruit him to the Bronx.
2. The offense was shut down.
Lee, Colby Lewis, C.J. Wilson and Derek Holland did a very good job of making the Yankees offense look really bad. Tommy Hunter was the only starter who was ineffective. Wilson pitched poorly in Game Five, but did pitch well in Game One.
Alex Rodriguez only hit .219, Nick Swisher only hit .176, Marcus Thames only hit .174 and Brett Gardner only hit .185. That type of hitting will not beat anyone in the postseason.
Derek Jeter only hit .250 and Jorge Posada only hit .267, which isn't good, but not terrible like the others.
Curtis Granderson did a terrific job hitting .357, Robinson Cano still played like an MVP hitting .343, and Lance Berkman actually was productive, hitting .313.
Now, some actually do wonder if the Yankees make a hard press for someone like Jayson Werth or Carl Crawford in the winter? I still say no, but I could be wrong.
3. Mark Teixeira's injury.
Teixeira wasn't hitting in the series, but still having him out there as a Gold Glove first basemen was a tough loss for the Yankees.
His presence in the lineup makes the Yankees lineup a deeper one. He still has the capability of hitting the huge home run when needed, like in Game One against the Twins. By putting both Berkman and Thames in the lineup, it shortened the Yankees bench and lineup.
It's not like Teixeira doesn't take care of himself, he's in tip top shape and is always very durable during the season. It was just a freakish injury that happened at the wrong time.
When he went down with the hamstring injury trying to get on base in Game Four, it was as if representing the Yankees in the series, having one of their legs go out from underneath them and playing short-handed.
4. Joe Girardi
I don't know if Girardi got complacent after winning the World Series in 2009, because he certainly wasn't managing with a killer instinct like he was during the championship year.
He made a lot of questionable calls during the season and at times, over-managed which cost the Yankees some tough games.
But, when he decided to only "play for a playoff spot" and not go all out for the A.L. East, it was like he was accepting mediocrity for his team.
You do not go into the playoffs backing in. Luckily for the Yankees, they got the Twins in the first round, because if they played anyone else, like an older Angels team, the Yankees would have been sent home, like they were in 2005-2007 by the Angels, Tigers and Indians.
I know some questioned Joe Torre in the past and his methods, but Torre at least was aggressive every season in trying to win and make the postseason. Torre didn't let his team hold up, he always went for the kill, and this year, Girardi did the total opposite, which I bet if George Steinbrenner were still around, would have earned himself a loud phone call or a trip up to his office for a pep talk.
Girardi managed as if he were scared, or even, trying to get out of New York and maybe to Chicago. Girardi can't get the Cubs job now even if he wanted it, so he has to hope the Yankees will want him back next season with his contract expiring.
5. The off-season now begins early

Derek Jeter, Mariano Rivera, Andy Pettitte and Joe Girardi are all free agents once the World Series is over. Many expect Jeter to re-sign, and as long as they want to play, many expect Pettitte and Rivera to re-sign.
The only question is, how much does Jeter sign for? He did have a down season in 2010 hitting .270, but Jeter is the equivalent to what Mickey Mantle and Joe DiMaggio were to the Yankees in their era's. The Yankees will likely give Jeter whatever he wants because of what he has meant to the team.
Pettitte is probably 50-50 on retiring. Many felt if the Yankees won in 2010, he would hang them up. He doesn't want to pitch when he's 40, so if he comes back in 2011, he'll be 39 and it would likely be his last season, that is if he doesn't want to retire after this season. He got to win one more championship with the Yankees, which is why he came back after the 2006 season, so it will be a waiting process for Andy.
As long as Mariano wants to pitch, the Yankees will hand him anything he wants. Rivera can still pitch at a high level, and was one of the few relievers who did well for the Yankees in the 2010 playoffs, so as long as Mariano wants to come back, I expect Rivera back.
Girardi may have no other choice but to go back to the Yankees, as the Cubs job was filled. Many expected Girardi to flee from the Bronx to Chicago, but now that can't happen, and with not too many jobs out there, Girardi may be staying put.
Joe Torre is out there, as he has stepped down from the Dodgers, but many really wonder if he would really go back to the Yankees for one last run, especially after Torre was booted out of the Yankees manager spot when they were eliminated in the 2007 playoffs.
The Yankees off-season now begins. It begins a little early, but like the cliche goes, there is always next year.
It wasn't a terrible year, they did make the playoffs, while some of their rivals (Red Sox, Mets) sat at home watching the game and playing golf, so the 2010 season wasn't a total failure.
And honestly, the Yankees did win the World Series in 2009, and while the 2010 ending did sting, them winning last season takes a little bit of the sting off, because at least they aren't in a 10 year championship drought as opposed to the nine-year drought they were in before the 2009 World Series.
What will the future hold for the 2011 Yankees? Guess we have to all wait and see.
Read more New York Yankees news on BleacherReport.com