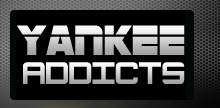 January 24, 2012 · Michael Nargi · Jump to comments
Article Source: Bleacher Report - New York Yankees
Jorge Posada was drafted by the New York Yankees in the 24th round of the 1990 amateur draft. He signed on May 24, 1991.
He retires on January 24, 2012 after 17 seasons for the New York Yankees.
Posada's career spanned 17 seasons in which he had 1,664 hits, 275 home runs, 1,065 RBI's, 900 runs, and 379 doubles. He had a career .273 average.
He played in 125 postseason games as well. When it mattered most, Posada had 103 hits, 11 home runs, 42 RBI's, and 23 doubles.
He was a four time World Series Champion, winning it all in 1998, 1999, 2000, and 2009.
Posada was a five-time All-Star, appearing in the game in 2000, 2001, 2002, 2003, and 2007. He also won the Silver Slugger Award for catcher in the same seasons.
Posada was a member of the Core Four and a true New York Yankee.
There are far too many memories that Posada gave to Yankee fans over the years to go through them all, but here are a few of them.