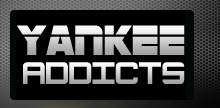 February 17, 2012 · Joe Acampado · Jump to comments
Article Source: Bleacher Report - New York Yankees
For once the New York Yankees have excess pitching meaning some of their pitchers, including Dellin Betances, can become trade bait.
The buzz right now is that A.J. Burnett is the one who's going to get traded. That trade, however, is purely to save the Yankees some salary. The Yankees can make some moves to make their team even better if they choose to do so.
Dellin Betances is one of the Yankees's top pitching prospect along with Manny Banuelos. He could fetch the Yankees something of worth should they decide to go back into the trade market. Knowing the Yankees, they're always willing to go back into the trade market.
The current Yankees starting rotation consists of CC Sabathia, Ivan Nova, Michael Pineda, Hiroki Kuroda, Phil Hughes/Freddy Garcia. Three of those guys (Sabathia, Nova, and Pineda) are poised to be in the rotation for a good amount of time. Hughes could join them if he gets somewhat close to his old form.
As of now, there isn't room for both Banuelos and Betances down the road, so the Yankees should start formulating some plans for trades. The Yankees don't need to make a trade right away, but they should at least keep their minds open to it down the road.
In the near future, the Yankees are going to have some open spots for their starters. Derek Jeter and Alex Rodriguez are nearing the end of their careers. The Yankees don't have a permanent DH. Nick Swisher is only going to be here for another year.
Here are 10 starters the Yankees should trade Betances for down the road.