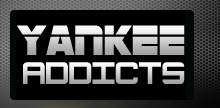 September 30, 2011 · Gil Imber · Jump to comments
Article Source: Bleacher Report - New York Yankees
Rain and New York Yankees postseason baseball.
It goes together like milk and honey, love and marriage, Babe Ruth and a certain 86-year Bambino's curse.
The Yankees have a habit of getting to the postseason. That team from the Bronx has a habit of playing in World Series games. Heck, they have a habit of winning World Series championships, 27 of them so far.
Yet the Yankees play in New York, and New York—like Boston, Philadelphia, and the other northeast cities—experiences a true change of seasons come late September, into October, and especially by November.
Major League Baseball, sensing something just might be afoot, strategically moved the 2011 schedule up by half a week. This ensured that the postseason would begin at the very end of September and would not go into that month of turkey and cranberry sauce.
Yet what MLB didn't count on was the strong link between rain and New York Yankees postseason baseball. The Yankees have always had a storied postseason history, and yes, that includes a history full of precipitation.
Here are the five most recent Yankees playoff appearances that were affected by rain.