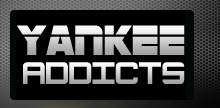 April 13, 2010 · Leslie Monteiro · Jump to comments
Article Source: Bleacher Report - New York Yankees
The Yankees celebrated their 27th World Championship this afternoon in their home opener. As usual, the team overdid it in an arrogant fashion when it came to the pomp and circumstances of this achievement.
Yogi Berra and Whitey Ford handed out rings to the players. The team raised the World Championship flag. Michael Kay went overboard with the introductions. The national anthem took forever to end.
This took as long as it really had to be.
The Yankees got that right. When a team wins, they can celebrate whatever they want. There is a saying about to the victor go the spoils.
Everyone laughs at the Yankees for all these years of failing to win a championship. Critics don't like it when the team buys a championship.
Today was the day the Yankees laughed at the haters. They stuck it to them with that show. One would think winning a title would give them enough satisfaction, but they needed to find a way to stick it to all other MLB teams with this act.
Maybe this team has some sort of insecurity or something. Obviously winning championships is just not enough.
The truth hurts when critics talk about the Yankees buying a championship while the rest of the teams are struggling to make money or survive in this cutthroat league.
USA Today's Bob Nightengale wrote a good piece about the disparity in baseball between the Yankees and everyone else on Friday. It was sobering to read.
The Yankees payroll is at $206.3 million. The Red Sox hold the second highest payroll at a paltry $162.4 million.
Most teams hold a modest payroll at the range of $50 to $70 million.
How are teams in baseball supposed to compete for championships or winning seasons in this situation? Bud Selig likes to talk about how there is parity.
He said the same thing yesterday during the Twins/Red Sox game on Fox Sports North.
What exactly is he talking about? Most baseball teams had high payrolls in the postseason last year. That's not progress, and it certainly isn't parity.
Folks in Tampa, Baltimore, and Toronto should not bother to watch baseball this season. Their teams are not making the playoffs in the AL East.
Folks in Miami, Washington, Flushing, and Atlanta should not bother either with the Phillies spending money to win the NL East. Despite the Phillies spending money, even they know what a budget is by trading Cliff Lee to Seattle.
Folks in Minnesota, Detroit, California, Texas, and everyone west of the Mississippi River shouldn't bother either. Their teams are not going to win a championship.
Based on what we saw this past week and today, the Yankees are going to win a title again. That team is even better than last year. Look for CC Sabathia, A.J. Burnett, Mark Teixeira, and the newcomers to have better years.
Forget about the Red Sox and the Rays competing for the division. They are not even making the playoffs this year.
The Red Sox like to talk about their starting depth, but it's pointless if they have no hitting. The Rays have a cute young team, but their bullpen will be tough to watch.
How is this exactly fair?
It's funny to read the Yankees Bleacher Report community leader mentioning to this writer about Brian Cashman knowing how to prepare for an entire season.
With what Cashman has to work with, he better know what to do. The community leader's comment came out disingenuous and smug.
Most teams don't make money at all in baseball. For all the talk about revenue sharing, teams still can't keep their homegrown players.
It was a struggle for the Twins to convince Joe Mauer to stay, but it worked out miraculously. The Brewers are having trouble keeping Prince Fielder, and the Padres are going through the same thing with Adrian Gonzalez.
It's not a lock the Cardinals can keep Albert Pujols after signing Matt Holliday into a long-term deal. Surprisingly, no one wanted Holliday, which is why he was forced to sign with the Cardinals.
There will be supply and demand for Pujols.
Looking at these situations, it's no wonder baseball is not a No. 1 sport in most towns. Only Boston, New York, and St. Louis can claim themselves as a true baseball town.
Most towns that have baseball would rather watch football. At least, in the NFL, there has been a salary cap all these years, and all teams have a chance to win in the Super Bowl.
Of course, the NFL Players Association wants to follow baseball's lead, along with Cowboys owner Jerry Jones, and it could be heading that way. If that's the case, that sport is going to die.
The NBA is already dead. Teams like the Lakers and other big market clubs are achieving success while small market teams are dying.
It makes the Knicks an embarrassment not only in this town, but in the league, when one looks at their issues. Fortunately, folks like LeBron James and others are smart enough to stay away from the cesspool that is the Knicks.
Still, it can't be a good situation. Odds are a lockout will happen then too.
Maybe it's time for baseball to have a strike. For the health of this sport, it's time to go in that direction. We can't keep seeing this situation forever.
It's not fun to see other baseball towns dying out, and not to mention watching guys who make more than they deserve.
Of course, New Yorkers don't like to hear this. It's not their problem. They like to talk about how everything is fine.
It's convenient for them with their team winning. This is like a rich person enjoying the hardships of a poor person.
It's hard for the rich people and the Yankees fans to relate, looking at the other person's situation.
The comments from Yankees fans speak for themselves. It's no wonder why we see uneducated comments from Yankees fans on this site.
Today, it was their day to enjoy. For the rest of us, we continue to pine for a change.
Read more New York Yankees news on BleacherReport.com