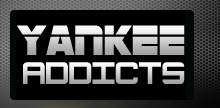 May 22, 2009 · David Sanchirico · Jump to comments
Article Source: Bleacher Report - New York Yankees
No, the Home Run Derby was at the old Yankee Stadium last season.
But Alex Rodriguez, Mark Teixeira, and the other Yankees have not received the memo. During their current homestand, the Bronx Bombers have rewarded the Yankee faithful with souvenir after souvenir, blasting shots into the packed bleachers and sending the Yanks on a nine-game winning streak.
It was only a matter of time until an opposing team took advantage of the wind tunnel and short dimensions of the new Yankee Stadium. The beneficiary was the home-run leader of the National League—the Philadelphia Phillies.
Jimmy Rollins started the night off with a shot to right field off of A.J. Burnett's first pitch. Rollins' shot set the tone for the Phillies as Philadelphia hit four home runs and ended the Yankees' roll with a 7-3 victory.
Jayson Werth, Carlos Ruiz, and Raul Ibanez also blasted home runs for the Phillies, who have won seven of their last eight contests. Rodriguez and Teixeira, along with Derek Jeter, continued their hot streaks with solo shots of their own.
The seven home runs hit Friday night increased the Yankee Stadium total to 82. According to ESPN.com, there has been nine games of five or more home runs at the new ballpark.
Opposing sides have argued the topic. The voice of the Yankees, John Sterling, is among the people that believe the launching pad that has been referred to as "The New Coors Field" will bring out the fans in droves. After all, most people go to games to see home runs.
Well since the new stadium has yet to sell out a game, this point is moot. Personally, I just believe Sterling wants to keep reminding Yankee fans how high, how far, and how gone each and every home run is.
Others, like WFAN's Mike Francesa, are getting frustrated with the amount of home runs being bombed out of the park.
I am with this group. Sure the home runs add thrill to the park, but it is also removing strategy. Why hit-and-run when even Melky Cabrera can consistently jack shots over the right field wall.
I'm sure MLB pitchers agree with me on this topic.
I'm also positive that there will be many more home runs jacked this weekend as the Yankees wrap up their homestand.