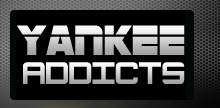 April 30, 2009 · Kevin Rozell · Jump to comments
Article Source: Bleacher Report - New York Yankees
(The Voice of Yankees Universe)
Alex hasn't returned to the club just yet, and the news surrounding him is starting to flow faster and faster. This past spring, training was filled with as much news as we can handle, but it seems like Selena has a lot more to tell. Alex could possibly rejoin the Yankees within 10 days, and the new Selena Roberts book is set to be released around that time (on May 12). This woman is really starting to get on my nerves, and I'm sure a lot of Yankees fans are pissed off at her, as well.
The book also talks about his poker habits, his divorce, his relationship with Madonna, and other interesting stuff: you can tell that it's going to get ugly. I want Alex back on this team as soon as possible, so I guess we are going to have to deal with all of this other crap, as well. We new this day was coming…
Some interesting bits and pieces:
SI writer Selena Roberts, who broke the story that A-Rod flunked a steroid screening in 2003, reveals fellow Bombers nicknamed the third baseman "B—h T–s" in 2005.
In addition, an unnamed major-leaguer is quoted as saying Rodriguez and steroid-tainted pitcher Kevin Brown were seen together with human growth hormone—HGH—in 2004.
Two other anonymous Yankees said they believed A-Rod was using, based on side effects they saw—and a clubhouse staffer said management wondered if he was using banned substances.
In one shocking disclosure, the book accuses A-Rod of "pitch tipping" when he was with the Rangers—letting a friendly opponent at the plate know which pitch was coming in lopsided games. Rodriguez expected players he helped would do the same for him when he was having an off-night and needed to get his batting average up, and it wouldn't affect the outcome of the game.