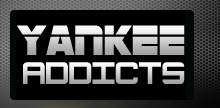 December 1, 2011 · Robert Knapel · Jump to comments
Article Source: Bleacher Report - New York Yankees
Sooner or later Derek Jeter will not be the starting shortstop for the New York Yankees. That moment may come sooner than many expect. While Jeter has a deal that runs through the 2013 season, he may be bumped out of his role before his contract is up.
George A. King of the New York Daily News asked Yankees GM Brian Cashman if the team had any interest in recently posted shortstop Hiroyuki Nakajima. Instead of refuting the idea that the team had any interest in him, Cashman simply said that he "cannot say."
Derek Jeter began to have some struggles during the 2010 season and they continued early on in 2011. Jeter was able to turn things around, but he is not the player that he once was. Over the past two seasons, Jeter has posted some of the lowest on-base percentage and slugging percentage totals of his career.
Additionally, Jeter has actually been below average at the plate since 2010, when he had a 90 OPS+, and even with his rebound in 2011, Jeter had just a 97 OPS+.
This is not the only aspect of Jeter's game that has fallen off recently. Jeter had been known throughout his career for his defensive play, but he does not have the range that he once had.
This past season, Jeter had a range factor per game of 3.44, which is well below the American League average of 4.33. Even taking a look at Jeter's range factor per nine innings does not help his case much as it is 3.61 compared with the league average of 4.36.
Looking at defensive runs saved, Jeter was actually 21 runs below average in 2011. This is not something new for Jeter as, according to the Fielding Bible, he was one of the worst defensive shortstops in the majors from 2006-2008.
Even with all of this being said, there is no denying that Derek Jeter is an outstanding player and a first ballot Hall of Famer. He is valuable to the Yankees in ways that go beyond his on-field production. Jeter is one of the best leaders in the game and there is a reason why he has earned his nickname of "The Captain."
The Yankees have brought in Japanese players in the past with both positive and negative results. Hideki Matsui was a solid contributor to the Yankees lineup, and Hideki Irabu put together two winnings seasons in his three years with the team.
The Yankees have had poor results with their last import, and they were happy that Kei Igawa's contract finally expired after the 2011 season.
Japanese position players seem to have more success than pitchers in the major leagues so that should be somewhat reassuring if the Yankees decide to go after Hiroyuki Nakajima.
Nakajima has been one of the more promising players in Japan over the past few years. He was a 20/20 threat and he batted around .300 during his career in Japan.
In 2011, Nakajima had the worst OPS of his career when he posted a .787 mark. This is actually better than Derek Jeter's production for three of the past four seasons. All indications from the scouting reports on Nakajima indicate that he should be able to hold his own defensively and be an average shortstop in the field.
There is no way that Nakajima would replace Jeter during the 2012 season, but it is entirely possible that he could serve as his backup during the season. Because of his offensive abilities, Nakajima could see some time as the Yankees DH.
If, and the key word here is if, Nakajima is able to adjust well and performs at a high level while Derek Jeter struggles in 2012, it is possible that Nakajima could force Jeter out of the starting role or into a platoon role for the 2013 season, the last year of Jeter's contract.
The Derek Jeter era is coming to an end in New York and it may be sooner than many people think.
Read more New York Yankees news on BleacherReport.com