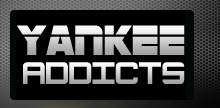 May 2, 2009 · Shanan H. · Jump to comments
Article Source: Bleacher Report - New York Yankees
No, I'm not writing this article for a lot of reads or comments, I really want the Yankees to trade the aging Derek Jeter, face of the Yankees, No. 1 draft pick, sure-fire Hall of Famer, and the only Yankee with a number less than 10.
Actually, I have written two articles about trading Jeter:
One where he goes to the Red Sox; the other he goes to the Padres.
One comment from the trade to the Red Sox reads:
"I know this trade was more for shock value and comments than anything else, and I understand that."
I'm writing this article to say:
No, I'm not crazy, and I write those articles because I believe that the Yankees should trade Derek Jeter. I really do.
Perry Arnold said this about my article:
"When you get out of Belleview (Spelt incorrectly!) or whichever other rubber room they have you locked in, come back on and give us more of your brilliant ideas."
This is not a crazy idea.
Why not?
Derek Jeter is aging. At 35, he no longer has tons of pop in his bat, and his defense?
Don't get me started on his defense.
The Yankees could most definitely trade Jeter to a team looking for a shortstop (Padres, Red Sox,) or a team who needs some age/pop in their lineups (perhaps the Mariners, A's, Minnesota.)
And, for the age, the Yankees would get youth.
To be honest, I don't care if we got bags of peanuts for Jeter. At least the prospects might improve.
The Rays and Red Sox have shown us youth is the way to go.
The Red Sox have many players from the farm system, that are young and will continue to improve:
Kevin Youkilis;
Dustin Pedroia;
Jed Lowerie;
Jacoby Ellsbury;
Jonathan Paplebon;
Manny Delcarmen;
Ramon Ramirez;
Jon Lester;
Justin Masterson;
Hunter Jones;
Micheal Bowden.
Remember, that's just the Majors.
Lets look at the Yankees:
Robinson Cano;
Brett Gardner;
Melkey Caberera;
Ramiro Pena;
Phil Coke;
Joba;
Edwar Ramirez;
Phil Hughes.
That list is too short.
The Yankees need more youth.
Another great example of success after trading of age is the Seattle Mariners. 14-9 this year, and all with youth.
Baseball has switched to youth. It's time for the Yankees to make the switch.
Step 1: Trade Derek Jeter.