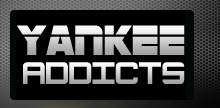 May 15, 2013 · Joe Giglio · Jump to comments
Article Source: Bleacher Report - New York Yankees
Mariano Rivera is in the midst of a unique farewell tour around Major League Baseball, giving time back to the members of each organization that are rarely seen or heard from.
The announcement during spring training that 2013 would be his final season didn't just start the clock on Rivera's last days as a dominant closer; it also set the stage for baseball to honor him along the way for his contributions to the game.
On Wednesday, Bill Chuck of Billy-Ball.com thought of the perfect send-off for Rivera:
UPDATE: Thursday, May 16, at 11:47 a.m. ET by Stephen Meyer
It looks like Mariano is flattered, but nonetheless not interested in taking part in the #StartMo campaign:
Mo tells me he appreciates the #StartMo campaign but that's not him. "I'm a reliever, not a starter." @billyball #Class #Yankees

— Kevin Kernan (@WheresKernan) May 16, 2013
—End of update—
While Yankees fans might attest that a perfect send-off would be pitching the final out of the World Series, that's an unpredictable outcome.
Instead, MLB can take the initiative and name Rivera the American League starter for the All-Star Game at Citi Field this July in front of his hometown fans.
Before reminding Bill that the game is no longer just an exhibition and its participants will be vying for home-field advantage in the World Series, remember that Mariano is 16-for-16 in save opportunities, sporting a 1.56 ERA and an almost sure bet to make the team and enter the game at some point.
Starting him wouldn't change the game any more than rearranging the order of the All-Star lineup for the American League.
If Rivera wasn't deserving of a place on the AL team, there would be justified opposition to the thought. Of course, there's roughly seven weeks before the teams are announced. Rivera's performance could slip to a level unworthy of All-Star recognition in the meantime, but few people expect that to happen.
Instead, baseball fans should embrace the #StartMo campaign.
Aside from a great narrative for FOX entering the All-Star break, it could serve as Rivera's national send-off and would bring his great Citi Field moment back into perspective.
Despite playing on the other side of town with the Yankees and the fact that Citi Field has only been open since the 2009 season, one of Rivera's milestone moments took place in the stadium that will host this year's Midsummer Classic.
On June 28, 2009, Rivera earned his 500th save during a 4-2 victory over the Mets at Citi Field. Furthermore, he added his only career RBI to the ledger during that game, padding the lead that he eventually saved.
As Bill pointed out in his post, the City of New York could be abuzz for the start of this game if Mets ace Matt Harvey continues his stellar start to the season and is selected to open the game on the mound for the NL. Watching a Harvey-Rivera duel wouldn't just be rare, but it would be something generations would remember forever, especially if Harvey is the next perennial All-Star in New York.
Of all the reasons for Rivera's inclusion in the starting lineup this July, perhaps none garner my support more than the time of the game.
With the first pitch set to be thrown at approximately 8:30 p.m. ET, few children will still be awake—even during summer vacation—to watch the final stages of baseball's All-Star Game.
In most situations, missing a single game wouldn't matter. With MLB Network and outlets like Bleacher Report, the sport has become easier and easier to follow and recap.
Yet there shouldn't be anyone who misses Rivera's possible last moment on a grand stage.
The Yankees have become an underdog story this season, and their route to October is littered with more challenges than any season in Rivera's career.
Fans may never get the chance to see Rivera close out another playoff or World Series game this fall, but starting him in the All-Star Game will provide the ending memory to a storybook career.
How should baseball honor Rivera?
Comment below, follow me on Twitter or "Like" my Facebook page to talk all things baseball!
Read more New York Yankees news on BleacherReport.com