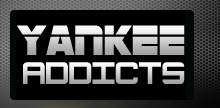 November 29, 2012 · Colin Kennedy · Jump to comments
Article Source: Bleacher Report - New York Yankees
The terms "expensive' and "New York" go seemingly hand in hand. So when you talk about baseball's most overpriced players, the Yankees have to come to mind first.
Bill Clinton was in the White House the last time the Yankees didn't top Major League Baseball's payroll list.
And, shockingly, a few players from that 1998 team are still wearing pinstripes today.
The Yankees developed a worldwide reputation for heavy spending under late owner George Steinbrenner that has translated into unprecedented success in recent decades.
Some may call them tasteless. Others will complain they have an unfair advantage.
I prefer the phrase "smart investing."
But,of course, with such a massive payroll, not every investment pans out. Not every player lives up to his contract.
So as we enter the world of high-rollers, here are four of the Yankees' most overpaid players.