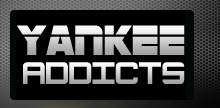 February 12, 2013 · Jake Singer · Jump to comments
Article Source: Bleacher Report - New York Yankees
Yankees' pitchers and catchers report to Steinbrenner Field in Tampa today. Spring training affords major league players the chance to warm up for the start of the season, but just as importantly lets teams (and fans) watch their prospects play every day in a way not usually available during the regular season.
The Yankees, by most accounts, have several high-ceiling prospects who are likely to stick around major league camp for most of February and March. Fans interested in both the present and the future of the team should keep an eye out for these three players.
Mark Montgomery
In 2008, David Robertson opened the season in Scranton/Wilkes-Barre before earning a midseason call-up in late June. I could see Montgomery, a similar pitcher to Robertson with a solid fastball and hard-breaking slider, following a similar trajectory.
One reason to watch Montgomery in the spring is to see what level of the minor leagues he starts in. He finished 2012 with Double-A Trenton, where he dominated. In 24 innings he struck out 38 and allowed only 18 baserunners.
Another reason to watch him is because he might end up being a key cog in the Yankees bullpen during the pennant run, especially if 43-year-old Mariano Rivera comes back to earth coming back from his torn ACL.
Of any prospect currently in the Yankees' farm system, Montgomery has the best chance to make an impact for the big-league club in 2013.
Gary Sanchez
Sanchez won't play in the majors in 2013, but letting Russell Martin leave in the free agency was a sign that the Yankees see Sanchez as their future backstop.
Sanchez likely won't make it past Double-A Trenton this season, which means he probably wouldn't be ready to debut in the majors until late 2014 at the earliest, but he's an important piece in the team's future.
His bat has been compared to Jorge Posada's. He hit 18 home runs in 116 games split between two Single-A clubs in 2012 and made great strides in his defensive abilities.
He's still a way from the big leagues but the front office will clearly have their eyes on Sanchez this spring and so should the fans.
Mason Williams
With the Yankees' self-imposed $189 million salary cap coming up in a season and Curtis Granderson's impending free agency, Granderson is likely not the team's center fielder of the future. Mason Williams might be.
The 2010 fourth round pick still hasn't played above Single-A Tampa, but in 2012 he posted an .820 OPS with 11 home runs and 20 stolen bases in just 91 games.
2013 will probably be his first full season of minor league action and will tell the team a lot about his future, so he will try to use spring training to make a positive impression on the Yankees' brass and hopefully earn at least a stint in Double-A Trenton.
Of the three prospects detailed here, Montgomery is the most likely to see time in the major leagues this season. But fans who are interested in the future of the Yankees should pay close attention to all three as they could be watching the team's future closer in Montgomery, catcher in Sanchez and center fielder in Williams.
Read more New York Yankees news on BleacherReport.com