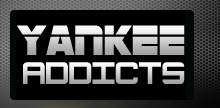 April 27, 2009 · David Barr · Jump to comments
Article Source: Bleacher Report - New York Yankees
Have you noticed how in the NFL and MLB that their is one team that always spends, but mostly the players are ineffective in their chase to a championship? The two teams I'm talking about are the Yankees and the Redskins.
During the offseason all they do is spend spend spend, but for some reason they're always getting rid of the talent the next offseason. For example, the Redskins picked up Jason Taylor in the offseason last year, but now in this offseason they dropped him for the simple fact that he did not want to go to voluntary workouts because he needed to take care of a family situation.
Don't get me started on the Yankees who pick up at least three big names an offseason. During the last offseason they signed C.C Sabathia, Mark Teixeira, and A.J Burnett. But what have those three done this season so far? Nothing. Whenever you make those deals you're not supposed to get swept by your biggest rival the Boston Red Sox.
All I'm trying to say is that money is not everything.