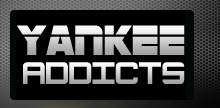 December 7, 2011 · Doug Rush · Jump to comments
Article Source: Bleacher Report - New York Yankees
The baseball winter meetings are under way, and there has been no shortage of rumors and talks going on from Dallas.
Most of the movement has been coming from the Miami Marlins, who have added closer Heath Bell and shortstop Jose Reyes and are in serious discussions for first basemen Albert Pujols.
While they have been a team that's been aggressively active this winter, the Yankees so far have been the complete opposite.
They have literally been dormant this winter, something that we are not used to seeing from the Yankees in recent time.
We all know they are interested in adding to their pitching rotation, and they haven't been tied to any of the names out there.
They aren't in the running for Mark Buehrle. Edwin Jackson is mediocre and should be avoided, they are hesitant to go after Roy Oswalt and they are not interested in spending any money on C.J. Wilson.
Now, we know the Los Angeles Angels are in the mix for Wilson's services, and if they are the team that ends up landing him, the Angels could end up trading one of their starters to free up some money.
According to Ken Rosenthal of FOX Sports, the Angels and GM Jerry Dipoto are fielding calls on right-handed starter Ervin Santana.
If they are entertaining offers for Santana, I think the Yankees need to throw their name into the mix and see what the asking price is for the Angels starter.
Santana was 11-12 with a 3.38 ERA in 2011 with 178 strikeouts in 228.2 innings for the Angels.
Plus, on July 27 at Progressive Field, he threw a no-hitter against the Cleveland Indians—a game where he actually allowed a run, but no hits in the 3-1 Angels win.
Santana is a career 87-67 with the Angels and has been one of the more consistent arms in recent history for the team.
One of the rare years that he did not make 30 starts was back in 2009, where he went 8-8 with a 5.03 ERA in 23 starts because he spent time on the disabled list.
The soon-to-be 29-year-old will make $11.2 million in 2012 and has a team option for $13 million in 2013, which depending on where he is, could either get declined or get picked up as a bargain.
The Yankees and Angels aren't exactly familiar trading partners, and in the past, have been playoff rivals.
But we know the Yankees and GM Brian Cashman are trying to make a significant move to upgrade their pitching rotation, and this could be one of the "under the radar" type moves Cashman could make to help them.
The Angels already have aces Jered Weaver and Dan Haren who are making significant money in 2012 and could have more money tied up if they in fact get Wilson from the Rangers.
Right now, it seems like a major long shot that the Yankees could pry away Santana from the Angels because the strength of the Angels is in their starting rotation.
But if in fact, the Angels and Dipoto are fielding calls for Santana, I don't think it would hurt to see what the asking price would be for him.
We have two more days left with the winter meetings in Dallas, and so far, there has been literally no movement out of the Yankees camp.
Could things change over the next two days? Only time will tell.
Landing a pitcher the caliber of Santana would make that type of significance they were looking for when the offseason began.
Stay tuned, Yankees Universe.
Read more New York Yankees news on BleacherReport.com