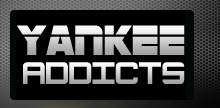 December 16, 2011 · Joe Acampado · Jump to comments
Article Source: Bleacher Report - New York Yankees
The New York Yankees and their fans have long wanted a reliable number two to slide in behind CC Sabathia. They'd prefer to do this without trading away Manny Banuelos.
Banuelos is the Yankees' top pitching prospect and is projected to be an ace sometime in the future. Therefore it makes sense for teams to ask for him. It also makes sense for the Yankees to hold him.
Regardless, the Yankees could use some pitching depth and they're in the market to get some.
By pitching depth, I mean actual reliable starters and cheap fill-ins who may or may not end up being the second coming of the Bartolo Colon/Freddy Garcia 2011 miracle troupe.
Since the Yankees aren't including Banuelos, these pitchers aren't going to be the top-of-the-line starters many fans want. That doesn't mean they'll be terrible; the Yankees just need guys who can consistently get the job done.
So here are the 10 guys the Yankees could feasibly get without giving up Banuelos.