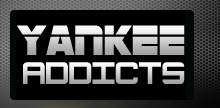 November 4, 2011 · Scott Gyurina · Jump to comments
Article Source: Bleacher Report - New York Yankees
Following another dismal postseason performance, a popular topic among many Yankee fans has been the desire to trade Nick Swisher in order to upgrade New York's right field position.
The effervescent right fielder suffered through a miserable Division Series against the Detroit Tigers, a third consecutive year in which he has failed to make a positive impact during the postseason.
Despite his failing—in which Swisher is clearly not alone—the Yankees opted to exercise the team option on his contract, keep the powerful switch-hitter in the Bronx for the 2012 MLB season. Swisher will make $10.25 million in 2012.
Swisher has clearly been disappointing in the postseason, hitting only .160 with a .587 OPS in 28 playoff games as a Yankee.
When he singled with two runners on in the eighth inning of ALDS Game 4, Swisher broke a streak of 28 consecutive postseason at-bats without a hit. His futility in the playoffs stands in stark contrast to his productive regular seasons.
Make no mistake, Swisher is a fine player, but he's not a premium hitter upon which you would rest your team's postseason hopes. If the strikeout-prone slugger is your lineup's focal point, there are likely many other issues which are detracting from your team's success.
He is a solid right fielder with great plate discipline, power in his bat and is far better than most sixth or seventh hitters in the lineups across the league.
Over the last three seasons, the duration of his Yankee career, Swisher has hit .267 with a .368 OBP, while averaging 27 home runs, 85 RBI and an OPS+ of 123.
His .854 OPS over those three years is fourth among all MLB right fielders, trailing only Jose Bautista, Lance Berkman and Justin Upton during that span.
He is ahead of Shin-soo Choo, Andre Ethier, Jayson Werth, Corey Hart, Nick Markakis and any number of other right fielders that one may assume surpassed Swisher in that regard.
Although he tends to strike out often and never owns a high batting average, his keen eye and strong plate discipline have earned him an on-base percentage of .368 during three years in New York, which ranks him fourth as well, behind Bautista, Berkman and Choo.
If you want to get more advanced and look at his wOBA, his .370 mark ranks him seventh among regular right fielders over the last three seasons.
Once again, he ranking ahead of Ethier, Kubel, Quentin, Cuddyer, Markakis and numerous other right fielders that some have mentioned as potential replacements.
Beyond his pop and plate discipline, Swisher has made strides on defense as well. During his first season as a Yankee, Fangraphs rated him at -3.0 UZR per 150 games.
He has improved each season, to 0.9 per 150 in 2010 and all the way to 8.8 UZR/150, which ranked him as the top right fielder in all of baseball in 2011.
Sure, it's often said that defensive metrics are best taken in three year increments and some still aren't completely sold on UZR, but the steady positive progression is encouraging.
As a run producer, Swisher has rarely excelled, but he was especially deficient this season, despite his 85 RBI.
With runners in scoring position this year, he hit .246, but posted a strong .845 OPS. Unfortunately, he didn't experience similar success with RISP and two outs. In such positions, he hit only .118 with a .576 OPS.
However, those numbers follow a 2010 season in which he hit .287 with an .839 OPS with RISP and .293 with a .923 OPS with RISP with two outs.
The truth regarding his hitting with runners in scoring position lies somewhere in the middle.
In spite of his valuable contributions throughout the regular season during his Yankee tenure, segments of fans are still willing to jettison the good-natured 30-year-old in hopes that the grass is greener on the other side.
Admittedly, his postseason performances have been putrid, and are cause for a reasonable level of concern. However, he is not alone in that regard, as other higher profile Yankees have struggled as well.
In his Yankee career which coincides perfectly with Swisher's, Mark Teixeira has hit .170 with a paltry .578 OPS. He has produced 12 RBI to Swisher's five, however his failings have been just as responsible for the Yankees' playoff exits in the last two seasons.
Since the Yankees 2009 World Series victory, Texeira has hit .156 with a .558 OPS. Even worse are his numbers in the last two series defeats, the 2010 ALCS against Texas and the Division Series loss to Detroit.
In the ALCS, Tex was held hitless. In the two series combined he hit .094 with a .393 OPS. That's certainly not the production expected of a $22.5 million first baseman incidentally making over twice as much as Swisher will in 2012.
There is also the issue of who would replace Swisher. With a dearth of quality outfield prospects in the Yankee minor league system, the solution could not come from within.
Glancing at the current crop of available free agents, there aren't obvious upgrades among those potential right fielders. There are a few that could work as short-term solutions, but none that offer an obvious step up from Swisher.
Carlos Beltran was once a great player and put together a very solid 2011 split between the Mets and Giants. But he will be 35 in April, has been injury prone in recent seasons, would cost the Yankees a draft pick as a type-A free agent and is a Scott Boras client.
Michael Cuddyer is solid complementary player, but he too is older than Swisher, less productive and far less consistent. He would be a great player to have on your team, due to his ability to play right, first, third and even second base.
But he will likely take a multi-year contract to lock up, something which the Yankees would be better served offering to a starting pitcher.
Jason Kubel is available as well, but aside from one great year in 2009, has proved to be less productive than Swisher.
Kubel, in his eight-game postseason career, is a .069 hitter with two hits in 29 at-bats. He is also strictly left-handed and is a career .239 hitter against lefties with a .639 OPS.
A player that the Yankees have been interested in during previous years, local product David DeJesus is a free agent. But he too is left-handed and is coming off a season in which he hit .240 with a .698 OPS.
There has to be concern with loading the Yankee outfield with three strictly left-handed hitters who have traditionally struggled against southpaw hurlers.
Though Curtis Granderson made significant strides against lefties in 2011, he has struggled terribly throughout his career. We don't yet know if his breakthrough was strictly an anomaly or a true reversal of a career-long weakness.
Over his career, Granderson is a .226 hitter with a .685 OPS against lefties. Brett Gardner is afflicted by the same issue and is a career .243/.667 hitter against left-handed pitchers.
Adding another left-handed hitter to the starting outfield would create too many potential dead spots in the order, around which southpaw hurlers could easily navigate.
Swisher helps create balance as a switch-hitter. Throughout his career, Swisher is a .270 hitter as a right-handed batter with an .855 OPS. In case of a Granderson regression, Swisher's versatility helps guard against an outfield that can't hit lefties.
Another name I've heard mentioned, though via trade, is Andre Ethier of the Dodgers. He's younger and currently cheaper than Swisher, but has only one year remaining on his contract and will be ready to test the free agent market for the first time in his career.
His numbers are actually remarkably similar to Swisher's, but he is another lefty that can't hit lefties (.242 BA/.661 OPS). There have also been questions regarding his attitude, something which has never been said about Swisher.
Considering the various factors I have outlined, the Yankees need to stick with Swisher, as their move of picking up his option would indicate.
Certain segments of the fanbase may be clamoring for an upgrade, but if the incoming player isn't named Bautista or Upton, the reality is that a significant upgrade may not really exist.
Sure, the lack of postseason success is a cause for concern that no one is happy about. Realistically, Swisher's entire playoff career encompasses 147 plate appearances, a sample size from which we can draw no definitive conclusions.
Following the 2012 season, the free agent outfield market will be much deeper and if the Yankees desire to go in a different direction than to persist with Swisher, there will be options.
Though they're not all right fielders by trade, the class of potentially available outfielders will include Josh Hamilton, Matt Kemp, B.J.Upton, Ethier, Carlos Quentin, Ichiro, Torii Hunter and others.
Of course, not all those will reach free agency, but they will be out of contract and could become available barring extensions with their current clubs.
For the time being, Swisher will be the Yankees' right fielder in 2012. If no obvious upgrades materialize, he could potentially play his way into manning the position for a few years beyond that.
Read more New York Yankees news on BleacherReport.com