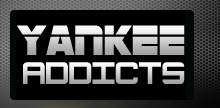 February 16, 2012 · Doug Rush · Jump to comments
Article Source: Bleacher Report - New York Yankees
All week long, the story of the Yankees has been trying to trade A.J. Burnett.
Each day, they looked like they were getting closer. Now, it looks like it will actually happen.
According to George King of the New York Post, the Yankees and Pirates are nearing an agreement that will send the 35-year-old pitcher to Pittsburgh.
The Pirates will inherit anywhere from $13-15 million of the remaining two years. They will inherit the remaining $33 million on Burnett's five-year, $82.5 million deal that he signed back in December, 2008.
The Yankees will also get two marginal prospects in the deal from Pittsburgh, as well.
The likelihood of dealing Burnett didn't really seem high, until the Yankees signed former Dodgers veteran Hiroki Kuroda to a one-year deal. That deal made Burnett expendable.
King said that the Yankees have been actively shopping Burnett since December. The Yankees organization feels it would be awkward to bring Burnett into camp when he knows they were trying to get rid of him.
Burnett's first year with the Yankees was a successful one in 2009; 13-9 with a 4.04 ERA in 207 innings. Burnett also won Game 2 of the World Series against the Philadelphia Phillies, a game that helped the Yankees get started in their series victory.
But, the following two years have been inconsistent and erratic.
Burnett in 2010: 10-15 with a 5.26 ERA.
Burnett in 2011: 11-11 with a 5.16 ERA.
Not exactly the numbers of a guy who was supposed to be the Yankees number two starter, while making $16.5 million per season.
Earlier in the week, the Yankees and Los Angeles Angels had a deal to send Burnett out west and, in return, bring back former Yankee outfielder Bobby Abreu.
Abreu could have been the Yankees DH, and played right field if needed. But, Burnett vetoed the deal because he had the Angels as one of the teams on his no-trade list. Burnett does not want to pitch on the West coast.
King said that, according to his source, the deal should go down this weekend, likely on Saturday.
All week, we've wondered if the deal would go down. And now, the deal looks to be near its completion point.
Once the deal goes down, the Yankees can then turn their attention towards finding a left-handed bat to be their designated hitter.
And now, all there is left is to get the official word that Burnett is on his way to Pittsburgh.
Stay tuned, Yankees Universe.
Read more New York Yankees news on BleacherReport.com