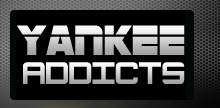 November 17, 2010 · James Evens · Jump to comments
Article Source: Bleacher Report - New York Yankees
Cliff Lee, the ace who recently led the Texas Rangers to the World Series, is once again a free agent and the biggest dog on the block is looking to get him. The Yankees are after Lee because of his success and his ability to lead teams to great runs in the playoffs.
By adding Lee to their roster, they will gain a great asset and have one of the best lineups in baseball from a pitching standpoint.
Having a one-two punch of Lee and Sabathia would mean great things for the Yankees and, once again, allow them to become World Series Champions.
If the Yankees know what is right for them, they will pursue Lee with a vengeance, or else he could end up somewhere they would have to face him, such as Boston.
If the Yankees are able to land Lee and sign him to a multiyear deal, it will be a great moment for their franchise and would almost guarantee a trip to the World Series. Sometimes money can't buy a World Series, but in this case it can.
Having Lee and Sabathia as the first two guys on your rotation would be devastating to any team in baseball and cause everyone—who is not a Yankees fan—to cringe.
Lee has had great numbers over his career, with a record of 102-61 and an ERA of 3.85.
If Lee agrees to go to the Yankees, it would be a win-win situation for him. His wallet would get fatter, and his chances of winning a ring would greatly increase.
Read more New York Yankees news on BleacherReport.com