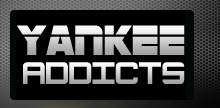 January 10, 2013 · Pete Schauer · Jump to comments
Article Source: Bleacher Report - New York Yankees
The New York Yankees—in search of a right-handed bat to complement a left-handed hitting outfield—may have found the perfect fit in the Washington Nationals' Michael Morse.
ESPN New York's Andrew Marchand reports that the Bronx Bombers have expressed interest in the 30-year-old OF/DH, a move that would appear to be a great fit for the Yankees.
Morse is coming off a season in which he hit .291, 18 HR and 62 RBI in 102 games while splitting time primarily between right and left field.
Furthermore, since the Nationals recently inked Adam LaRoche to a new two-year deal, Morse is more likely to be sold than he is to be kept, as the New York Times' David Waldstein points out.
As Waldstein writes,
Morse could be a perfect fit for the Yankees, and not only because he would balance the roster. He can play the outfield and first base, he could form the right-handed part of a designated hitter platoon. And he is only signed through 2013 ($6.75 million), which fits snugly with the team's budgetary requirements.
Morse is also a great fit for New York because, let's face it, we all know Brett Gardner is likely to find himself on the disabled list at some point this season and Ichiro is 39.
Though Ichiro has never shown any signs of breaking down during his 11-year career in the MLB, there's always the risk that he goes down with an injury, which the Yankees are no stranger to.
Factor in the fact that Curtis Granderson struck out a career-high 195 times last season and the addition of Morse should sound favorable to Yankees fans.
Morse has averaged 21 homers the past three seasons and would provide protection in the middle of New York's lineup for guys like Robinson Cano and Mark Teixeira.
More importantly, Morse has experience playing first base, which will definitely come in handy for the Yankees, who saw Tex play in only 123 games last season due to injury.
This move practically sounds like a no-brainer for the Yankees, who could use Morse in a multitude of ways.
Although Fox Sports' Ken Rosenthal reports that Morse isn't a fan of being a DH in the American League, the Yankees have proven to be a team that often uses a four-outfielder rotation. And as stated earlier, there's always the propensity for injury on an aging Yankees squad.
If they do acquire "The Beast," the Yankees will be hoping he can mirror his 2011 performance when he launched 31 homers, drove in 95 runs and batted .303.
Given New York's ambitions to lower the payroll and strengthen the team, I would say there's a very good possibility this deal gets done.
If you had to press me for a percentage, I would give it a 70 percent chance that the Yankees acquire Morse.
ESPN's Buster Olney (Insider access required) believes Washington won't get much in return for the oft-injured Morse, which works out in New York's favor.
Overall, given the lack of moves made by GM Brian Cashman and the rest of the Yankees' brass this offseason, fans of the Bronx Bombers should definitely hop on board with this move.
It's a low-risk, high-reward deal for the Yankees, who desperately need youth and talent to contend with the rest of the hefty AL East.
Follow me on Twitter: Follow @Pete_Schauer
Read more New York Yankees news on BleacherReport.com