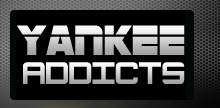 November 18, 2012 · Jonathan Reid · Jump to comments
Article Source: Bleacher Report - New York Yankees
For the first time in a long time, the New York Yankees are beginning to look vulnerable.
Between the team's aging core (Derek Jeter, Alex Rodriguez, Mariano Rivera), declining production (see Mark Teixeira and Alex Rodriguez), lack of major league ready prospects and soon-to-be tightened purse strings, there is major cause for concern in the Bronx.
Oh did I mention that the starting rotation is looking shaky at the moment? While the Yankees are focused on bringing back Hiroki Kuroda and Andy Pettitte, neither signing is a guarantee and neither of those pitchers would be a long-term solution for the Bronx Bombers.
Now it's being reported that the Yankees are interested in becoming the latest beneficiaries of the Miami Marlins' fire sale and are looking into trading for starting pitcher Ricky Nolasco.
Yankees beat writer Erik Boland tweeted the following just a few days ago:
With the Marlins selling off parts, source says Yankees, not surprisingly, have an interest in Nolasco, who has 1 yr $11.5 mil left on deal

— Erik Boland (@eboland11) November 14, 2012
Would that solve anything though?
Nolasco hasn't exactly been a stud throughout his career.
In fact, he hasn't posted an ERA under 4.50 since 2008, nor has he eclipsed the 200 inning plateau more than once in the past four seasons. His WHIP hasn't dipped below 1.25 in four seasons and he hasn't been able to rack up more than 6.5 strikeouts per nine innings in 2011 or 2012 (all statistics courtesy of baseball-reference.com).
Acquiring Nolasco would be like putting a Band-Aid on a gun shot wound.
The Baltimore Orioles are on their way up. So are the Toronto Blue Jays, and the Tampa Bay Rays have the best pitching staff in the league.
Trading for a starter whose numbers are not better than those of your typical No. 4 guy is not the answer.
Re-signing Kuroda would be a start, but he's already 37 years old and looking to pitch on the West Coast, where his children go to school.
No matter how many different avenues the Yankees are pursuing, pondering a deal for Ricky Nolasco is a waste of time and making said trade would be nothing but a waste of $11.5 million.
Read more New York Yankees news on BleacherReport.com