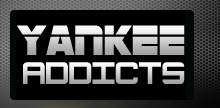 December 31, 2012 · Doug Rush · Jump to comments
Article Source: Bleacher Report - New York Yankees
The main focus of the New York Yankees heading into 2013 seems to be a bat.
Preferably, a right-handed bat that can play the outfield.
Last week, the Yankees signed former Atlanta Braves outfielder Matt Diaz to a minor league deal with an invitation to spring training.
However, Ken Rosenthal of FOX Sports doesn't think the Yankees' pursuit for another hitter is over:
Matt Diaz to #Yankees on minor-league deal, according to @feinsandnydn. Seriously doubt search for RHH OFer ends there.

— Ken Rosenthal (@Ken_Rosenthal) December 26, 2012
And I agree with Rosenthal. I don't think their quest is done for a right-handed bat.
There are two options I see right now for the Bombers.
The first one is New York Mets outfielder Scott Hairston, who the team likes a lot.
However, I think this one is unlikely.
Hairston wants at least two years as a free agent, and while I think Hairston would be an ideal fit for the Yankees lineup, I just don't see Brian Cashman giving a free-agent fourth outfielder a two-year deal.
The second option is the one I am going to focus on here because I think he's the dark-horse candidate that the Yankees might end up landing: Vernon Wells.
Two weeks ago, news of the Yankees and Los Angeles Angels discussing a potential deal surfaced (via the Daily News).
That news came from the Angels' recent signing of Josh Hamilton to a five-year, $125 million deal, so the Halos may look to shed an outfielder from the team this winter.
Call it a weird gut feeling, but by either mid-January or early February, I think Wells might end up on the Yankees.
For that to happen, the Angels will almost certainly have to take on the remainder of the two years and $42 million that's owed to Wells.
I think it happens because I think the Angels just want to be done with Wells, even if they have to pay someone else to take him off the roster.
So, lets say Wells is a Yankee in 2013. How would he impact the team?
Now, before I begin, if you are expecting the 30 home run, 110 RBI hitter of a few years ago, you're expecting the wrong player.
The 34-year-old Wells is a mere fourth outfielder now in his career, but on the right team and with the right situation, he could actually thrive in a new role.
For one, he is still a decent outfielder who can play all three spots if needed for the Yankees.
He would essentially take over the role that Andruw Jones left behind by being used against left-handed pitching. Jones ended up playing more in 2012 for the Yankees because of the injury to Brett Gardner. He eventually got overused, and pitchers exposed his flaws at the plate.
For a long time now, Wells' name has come up in many of the "worst current contracts in MLB" lists.
And again, I'm not looking at Wells as the center fielder the Blue Jays locked up to a mega-contract.
No, instead, I'm looking at the Yankees taking a fraction of his deal and getting two years out of Wells as a fourth outfielder, potential DH and defensive replacement.
Plus, what if Gardner's elbow acts up again in 2013? Just like Jones, Raul Ibanez is also gone, and Wells could fit into the lineup and play if needed.
I think what has to happen first for a Wells deal is Hairston coming off the market.
I know the Yankees will remain interested, but I think he goes back to the Mets for the two years he wants in a deal.
Once that happens, Cashman knows he won't just go with Diaz as his fourth outfielder, although I know Diaz will do his best to impress everyone in spring training.
I think Cashman's talks with the Angels will resume based off the initial talks from the baseball winter meetings, and all that would remain would be a number.
That number is how much of Wells' contract the Angels decide to eat in order to make a deal.
Once the new year hits, don't be surprised if this kind of deal happens.
Stay tuned, Yankees Universe.
Read more New York Yankees news on BleacherReport.com