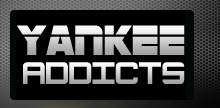 February 11, 2012 · Doug Rush · Jump to comments
Article Source: Bleacher Report - New York Yankees
The New York Yankees have been actively searching for a way to rid themselves of AJ Burnett in the last week.
Yankees general manager Brian Cashman may have found a taker in the Pittsburgh Pirates.
The other day, the Yankees were asking for right-fielder Garrett Jones in return, but according to Jon Heyman of CBS Sports and WFAN, Pirates GM Neal Huntington rejected that offer, causing the two sides to go back to the drawing board on negotiations.
Right now, it's looking like the Yankees aren't looking for any players in return from the Pirates so much as cash and salary relief.
The Yankees want to add a left-handed bat as DH and may try to bring back Eric Chavez for bench help, but the Yankees can't do that if they can't dump salary.
On Friday, the Pirates looked like they would take on about $10 million of the remaining two years and $33 million, but according to Heyman, the Yankees want Pittsburgh to take on more.
The Yankees want Pittsburgh to take on at least half, according to Joel Sherman of the New York Post, which is where the talks stalled going into Saturday night.
And as of Saturday night, according to Mark Feinsand of the New York Daily News, there's a "good chance" that the deal between the Yankees and Pirates goes down for Burnett.
Ken Rosenthal of FOX Sports said that the Pirates are one of four teams interested in acquiring Burnett's services, but the Pirates make the most sense to land the 35-year-old starter.
Burnett was 11-11 with a 5.15 ERA and, at times, looked completely lost on the mound in 2011. He really helped his credibility with a Game 4 ALDS win against the Detroit Tigers.
I'm actually surprised the Yankees didn't pull the trigger on the Pittsburgh deal after the Pirates' original $10 million offer.
I didn't think anyone would go for that much, so I think Cashman really wants to see how far Pittsburgh is willing to go.
Most Yankee fans are dying to see this deal get done as Burnett has unquestionably worn out his welcome in New York with his underwhelming tenure and consistency.
Getting Burnett off the roster will eventually help the Yankees acquire the bats they are targeting for 2012.
And by going to Pittsburgh, Burnett can help resurrect whatever is left of his career in pitching to weaker NL lineups.
Hopefully going into next week, Burnett will be heading to spring training for the Pirates and not the Yankees.
Stay tuned, Yankees Universe.
Read more New York Yankees news on BleacherReport.com