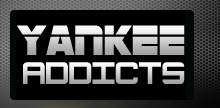 November 20, 2011 · Doug Rush · Jump to comments
Article Source: Bleacher Report - New York Yankees
The winter offseason for baseball has gotten off to a rather quiet start.
Aside from the Yankees re-signing some of their own players like CC Sabathia, Robinson Cano and Nick Swisher, they too have been on the quiet side.
But according to John Harper of the New York Daily News, the Yankees could be involving themselves in a trade very soon.
Harper reported that the Atlanta Braves have called the Yankees asking about infielder Eduardo Nunez.
Yankees GM Brian Cashman has held onto Nunez in the past, especially when he refused to include him in the July 2010 trade to the Seattle Mariners for Cliff Lee.
But with Cashman scouring the market for starting pitching this winter, he could be looking to make a deal with the Braves again.
Back in December of 2009, the Yankees sent Melky Cabrera and prospects to the Braves in exchange for Javier Vazquez and Boone Logan.
Fast-forward two winters later. If the Braves are looking to land Nunez, they may have to part with right-handed starter Jair Jurrjens.
Jurrjens went 13-6 with a 2.96 ERA in 2011, but only made 23 starts due to a knee injury.
Despite the knee injury, when healthy, Jurrjens is one of the better young arms out on the market right now. The Kansas City Royals attempted to trade for Jurrjens this past month, but negotiations fell apart.
The Braves are looking for offense and want to find an everyday shortstop so they don't have to bring Alex Gonzalez back, and taking the Yankees' 24-year-old infielder could fill that hole.
At the same time, the Yankees need to upgrade their rotation, and Jurrjens could fit in perfectly into the Yankees plans for 2012.
Now, according to Jon Heyman of Sports Illustrated and WFAN, it would take a lot more than just Nunez for the Braves to part with Jurrjens.
I agree. It would take more than just the shortstop, which is why Cashman and Braves GM Frank Wren should get together and discuss a deal.
Maybe a deal of Nunez, Swisher and a low-tier prospect for Jurrjens could get done for both sides?
Cashman knows he needs to make a move this winter, and this could be the one he ends up making.
Most teams aren't so eager to give away their best pitchers. but in the Braves' case, if they want to get offensive help, they need to help the Yankees' need for pitching.
Now it just becomes a question of if Cashman and Wren can come together again and make a deal.
Stay tuned, Yankees Universe.
Read more New York Yankees news on BleacherReport.com