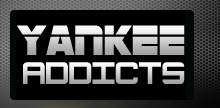 March 2, 2012 · Benjamin Klein · Jump to comments
Article Source: Bleacher Report - New York Yankees
Is it possible that the New York Yankees are already winners in the the trade that sent struggling pitcher AJ Burnett to the Pittsburgh Pirates?
Yes.
Just under two weeks ago, ESPN's Buster Olney broke the news that the Bronx Bombers no longer had to worry of AJ Burnett taking the mound at Yankee Stadium, dealing him to Pittsburgh for prospects Diego Moreno and Exicardo Cayones.
In the deal, the Yankees will pickup most of Burnett's remaining salary on his contract, leaving the Pirates only paying $13 million over the next two years.
The Pirates may have thought they were getting a veteran pitcher to lead their young rotation but that won't be the case for at least two to three months after Burnett getting surgery to repair a fracture in his orbital bone, reports ESPN.
Burnett fractured the bone after fouling a bunt attempt off his face during spring training workouts. Could this be a sign for the future of Burnett in Pittsburgh? Neal Huntington should take note.
Over the last three seasons with the Yankees, Burnett went 34-35 with a 4.79 ERA and averaging nearly four walks per game. Before coming to New York, Burnett played in Toronto for three years and for the Marlins for sevens years before then.
In case he forgot, the only difference between the AL and the NL is that pitchers have to hit in the NL. In 13 career seasons, Burnett has hit .130 over 315 games. He only has 37 career sacrifices in his career, 33 of them coming while in Florida.
Here's some advice to manager Clint Hurdle on keep his newly acquire "ace" healthy; tell AJ Burnett to just stand in the box and look pretty.
Trying to bunt a runner over clearly just isn't going to happen.
Read more New York Yankees news on BleacherReport.com