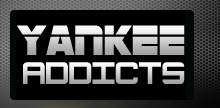 November 28, 2012 · Kenny DeJohn · Jump to comments
Article Source: Bleacher Report - New York Yankees
Josh Hamilton, Michael Bourn and B.J. Upton headline the class of this offseason's free-agent outfielders, but Shane Victorino has been gaining some interest recently.
Jon Heyman of CBSSports.com reports that there are seven teams interested in Victorino's services, and that one of those teams is the New York Yankees.
Heyman claims that several teams would be willing to go at least three years for the center fielder, even though Victorino himself is said to be seeking five years.
Victorino was traded midway through last season to the Los Angeles Dodgers after playing the previous seven-plus seasons with the Philadelphia Phillies.
He put together arguably the worst campaign of his career since establishing himself as an above-average center fielder.
His line of .255/.321/.383 was his worst since becoming a starter in 2005. He hit just 11 home runs, drove in just 55 runs and hit just seven triples—his lowest since 2007.
His 80 strikeouts was also the most of his career.
On a positive note, he did steal a career-high 39 bases. He was caught only six times.
Victorino will turn 32 years old later this week, so it's safe to say his career may be starting to hit a decline. With this being the case, no team should be willing to give him five years.
Heck, I wouldn't even want to give him three.
With the Yankees' goal of reducing their payroll by 2014, the cost of Victorino just doesn't fit. He'd be 34 by the end of a three-year deal, and likely would be valued at around $14 million per season.
The numbers he put up last season do not warrant that type of deal, though it's easy to see him getting that, given the number of teams interested.
The Yankees should stay away from Victorino.
The cost, the production, the age and the dynamic he brings to the lineup simply doesn't fit. If the Yankees learned anything in the playoff series against the Detroit Tigers last season, it's that the team lacked guys who could get on base consistently.
With Victorino's .255 batting average and .329 on-base percentage from last season, the Yankees would not get any better.
Ichiro Suzuki could be re-signed for cheaper, and for much less of a time commitment. At the least, he can provide the same line as Victorino. Sure, his power and run production wouldn't be the same.
That's fine, though, because that's not the role a player such as Ichiro needs to fill.
There could end up being a bidding war for Victorino's services after the Winter Meetings in Nashville, and Yankees fans should be pleased if general manager Brian Cashman doesn't enter the field.
Victorino is a good player but not worth the asking price at this point in his career.
Read more New York Yankees news on BleacherReport.com