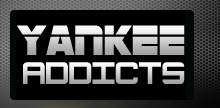 December 29, 2011 · raul rodriguez · Jump to comments
Article Source: Bleacher Report - New York Yankees
Currently, for the 2012 MLB season, the New York Yankees are standing with a payroll of $197 million. Generally, the team has a tendency to adhere to a $200 million payroll for each season and will probably not make any moves this offseason because of being close to that figure. This high payroll, including the luxury tax that will need to be paid, strongly discourages GM Brian Cashman from signing big free agents like Hiroki Kuroda and Yoenis Cespedes because any other significant contracts would bring the payroll near $210 million.
I understand why New York Yankees fans are angered by this notion that the team could somehow be strapped and restrained because of money. But the fact is that New York has made several bad signings during these past offseasons and have committed to a very significant sum of money. Just look to the contracts of Alex Rodriguez, AJ Burnett, and even Rafael Soriano, who greatly struggled in 2011.
Mike Axisa of River Ave. Blues reported earlier this year that the New York Yankees are looking to cut payroll to $189 million by 2014 in an attempt to rid themselves of some of these bad contracts. Overall, I have to say that I agree with this decision because of the fact that the team needs to rid itself of bad contracts before investing in a greater number of potentially damaging deals. If the team brings payroll back up to $210 million from 2015-2017, then there would be a total savings of about $55 million. Much of these savings would be coming from the absence of a luxury tax for the team in 2014.
To be honest, I am very elated that the Yankees did not post a significant amount for Yu Darvish this offseason. This was one more opportunity for the team to get burned by another large contract through negotiations. The reason for this is that Darvish has no guarantee and seems overrated to me. No Japanese pitcher has really panned out in Major League Baseball to become a long-lasting superstar.
One year, deals for pitchers like Hiroki Kuroda and Roy Oswalt would make sense for the team, however, because of the lack of team control. Huge deals, like the one given to Albert Pujols by the Los Angeles Angels of Anaheim, are only asking for trouble.
This austerity budget would force the Yankees to try to develop young pitchers like Dellin Betances, Manny Banuelos, Adam Warren and David Phelps, who could all be ready for big league action in 2012. With further development of young pitching with team-friendly contracts, New York will have the ability to save money for future contracts when needed and will easily compete for superstars on the free agent market in necessity because of the surplus of money in availability.
Read more New York Yankees news on BleacherReport.com