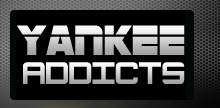 October 13, 2010 · Zachary Cohen · Jump to comments
Article Source: Bleacher Report - New York Yankees
After a brilliant performance in Game 3 from Phil Hughes, Joe Girardi has decided to switch him and Pettitte in the playoff rotation. And not only that, A.J. Burnett is getting the nod in Game 4.
This may come as a surprise to a lot of people after Pettitte's good outing against the Twins in Game 2, and A.J. Burnett's horrendous regular season. But you have to trust the decisions your manager makes and I'm sure Joe Girardi knows what he's doing.
Phil Hughes pitched seven shutout innings against the Twins in the first round the MLB Playoffs, striking out six batters in the process. He looked to be in command the entire game with very few places for concern.
Pettitte pitched very well also, letting up two earned runs in seven innings, while striking out four batters. He got out of a couple of jams and showed why he has more postseason victories for starters than anybody in the history of baseball.
This is where you ask, did Hughes really do well enough where you needed to switch him and Pettitte in the rotation? Perhaps Girardi sees Game 3 as a must win and he trusts the veteran to be on the mound in that situation. Who knows what Girardi was thinking for sure?
The real question here is, did A.J. Burnett deserve to even crack the Yankees postseason rotation at all? Burnett rarely showed command during the regular season. Inconsistency plagued both him and the Yankees the whole year. Burnett went 10-15 this season with a 5.26 ERA. Are these numbers you can rely on when you're just four wins away from making it back to the World Series.
Hopefully these changes payoff for the Yankees, otherwise Girardi may go running to that Cubs job.
Read more New York Yankees news on BleacherReport.com