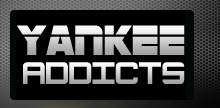 January 20, 2012 · Thomas J. Harrigan Jr. · Jump to comments
Article Source: Bleacher Report - New York Yankees
By all standards, Phil Hughes had a miserable 2011.
After winning 18 games in 2010, the Yankees penciled in the righty as the No. 2 starter last season, but he gave up 16 earned runs in his first three starts before hitting the disabled list with arm fatigue.
There was even a concern that Hughes was suffering from thoracic outlet syndrome, a rare disorder that affects blood flow. But after meeting with specialist Robert Thompson it was determined that the 25-year-old didn't have the syndrome.
He eventually returned in July, made 14 more appearances, and finished with a 5-5 record and an ERA just south of six.
On first glance at Hughes' 2011 season and his poor finish in 2010, there is not much cause for optimism in 2012, especially considering there are now seven starting pitchers on the Yankees' roster, after the trade for Michael Pineda and the signing of Hiroki Kuroda.
However, when breaking down Hughes' season after his return from his dead arm issues, one thing stands out.
He wasn't that bad.
In 11 starts after returning from the disabled list on July 6, Hughes went 5-3 with a 4.55 ERA. Not ace-like numbers, but not that far off from his 2010 performance.
In that span, Hughes' ground ball to fly ball (G/F) and strikeout to walk (K/BB) ratios weren't that dissimilar either.
He recorded a 0.56 G/F and a 2.52 K/BB in 2010, and in his 11 starts after returning in 2011, he had a 0.60 G/F and a 2.21 K/BB.
In fact, after removing two horrendous starts versus Oakland and one at Boston, you're left with eight starts in which Hughes gave up two earned runs or less. In those starts, Hughes went 5-2 with a 2.22 ERA in 48 2/3 innings.
That's a whopping 73 percent of his starts after returning from the DL in which Hughes was actually quite good.
And, it gets better.
According to ESPN Stats & Info, Hughes' average fastball velocity increased a couple of ticks after he returned. His average in April was 89.0 MPH, but in July and August it was 91.2 and 91.8, respectively.
Hughes' home run percentage also decreased dramatically compared to 2010. He gave up 25 homers in 176 1/3 innings is '10, but returned to surrender just five in 61 2/3 innings last season.
The Yankees have to be resigned to the belief that Hughes will never be the ace he was drafted to be, as his lack of a true out pitch leaves him susceptible to too many two-strike hits.
In 2010, Hughes gave up 71 hits in 417 plate appearances when he got two strikes on a batter. In comparison, 2011 Cy Young Award winner Clayton Kershaw surrendered just 60 in 468 plate appearances this past season.
However, with the Yankees' recent acquisitions, the emergence of Ivan Nova last season, and the presence of the always dependable CC Sabathia, the Yankees don't need an ace. They need a capable No. 5, and there is no reason Hughes can't be that.
Hughes is still only 25, so the Yankees should give him every chance to seize a spot in the starting rotation in 2012.
If he does beat out A.J. Burnett and Freddy Garcia for the final spot in the Yankee rotation, Hughes will have no problem winning 13-15 games next season.
Thomas J. Harrigan Jr. is a writer from New York. He graduated from Quinnipiac University in 2010. Follow him on Twitter, @tharrigan_88
Read more New York Yankees news on BleacherReport.com