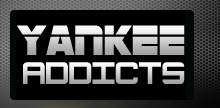 October 1, 2011 · Pat Dean · Jump to comments
Article Source: Bleacher Report - New York Yankees
Fans of the New York Yankees and Detroit Tigers are likely wondering which team has the advantage after mother nature ruined Game 1 after nine outs of baseball were played at Yankee Stadium Friday night. Both division winners saw their aces get roughed up in short outings, and will not have either of them on the mound when Game 1 resumes today. So, after a rainy situation, who has Mr. Momentum on their side? Perhaps Tigers Manager Jim Leyland lent the baseball universe a clue.
In speaking to the Detroit Free Press, Leyland expressed concerned about the Tigers never having the opportunity to face Yankees rookie pitcher Ivan Nova. "We don't know a whole lot, other than what we see on tape and what the scouts say. But really the hitters will have to get a little better feel for that when they get in the box. You can give guys reports. You never know how it's going to play out," said Leyland to the newspaper.
While some anti-Yankees baseball fans may assume what Leyland is saying is pure strategy, I believe that the Tigers manager is on to something. As I watched the tarp come on and off the ballpark while being one of the millions and millions of people in the baseball universe observing the scene on TBS, I thought to myself that there was no way CC Sabathia should throw another ball in Game 1 of this series—when it was time to play ball, Nova should be called upon.
Apparently, Joe Girardi had the same sentiments as well. While Nova is something of an enigma to the hitters of the Tigers, it should be noted that he has the home crowd in his favor and was four games away from being a 20-game winner despite pitching in a division that contains the Boston Red Sox and Tampa Bay Rays, along with two other competitive teams such as the Toronto Blue Jays and Baltimore Orioles.
While a regular season game can not be substituted for a postseason game, Nova has only given up more than three runs twice in his previous 13 starts. The other surprising element going for Nova is that he finished second in the AL in win percentage (.800).
Since Sabathia pitched two innings compared to the one inning that Justin Verlander pitched for the Tigers, this means that it's one less inning of pressure on Nova. Nova realistically has to be good for five innings and hand things off to Rafael Soriano and Mariano Rivera.
The 24-year-old right hander is more than capable of accomplishing this. A win by Nova will be the key to the Yankees winning the series since the pitching matchups following Game 1 will heavily favor the Tigers with the exception of Game 3.
A Game 2 duel between Freddy Garcia and Scherzer will proceed, followed by the Sabathia-Verlander rematch in Game 3 and A.J. Burnett vs. Rick Porcello in Game 4. Guess who would pitch in a Game 5 if necessary? Probably Nova. World Series mission No. 28 will depend on it.
Read more New York Yankees news on BleacherReport.com