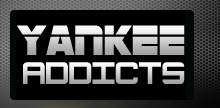 October 10, 2010 · Kyle Reagan · Jump to comments
Article Source: Bleacher Report - New York Yankees
Entering the MLB postseason, analysts and other fans of the sports seemed to be skeptical of the New York Yankees chances to repeat their World Championship run from last year. Much of this skepticism centered around the lack of quality pitching following CC Sabathia in the rotation.
However, in the Yankees sweep of the Minnesota Twins Sabathia's win ended up being the weakest performance, as Andy Pettitte and Phil Hughes pulled strung together very strong performance in their respective wins.
From the bullpen, Kerry Wood okay in Game 1, dominated in Game 2, and then struggled in Game 3; he gave up the bullpen's only earned run in the series in Game 3. Mariano Rivera didn't give up a run in his three relief performances in which he captured 2 saves, continuing his postseason dominance.
Overall, in the Minnesota series the Yankees pitching staff seemingly silenced any doubt that was circulating.The Yankee's offense was never really a cause for concern, but it is good to note that they didn't disappoint, adding run support from a slew of different players in their lineup.
However, just playing well isn't the only reason that the Yankees might now be the favorite, other teams have been struggling.
Tampa Bay couldn't hit Wilson and Lee in the first two games in which both Shields and Price struggled, and then in Game 3 they rebounded in a win in the late innings. Texas looked strong until Game 3, where the bullpen was unable to hold the lead and the offense didn't have the same success at the plate.
The Phillies got one of the best pitching performances in postseason history in Game 1, and with 4 runs in support won easily. In Game 2, Philadelphia won in a sloppy comeback after Oswalt had trouble early. The Reds probably should have won Game 2, but beat themselves with errors, they didn't look very good in either game.
Tim Lincecum showed why they call him The Freak in Game 1, as they battled their way to a 1-0 win. In Game 2, they were able to open a lead early, but then blew it later in the game and finally lost in extra innings after Ankiel's home run.
Overall, no team besides the Yankees have shown the consistent, high quality of play on both sides of the ball that the New York Yankees have this postseason, which is why they are once again the team to beat.
Read more New York Yankees news on BleacherReport.com