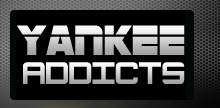 October 1, 2011 · Justin Welton · Jump to comments
Article Source: Bleacher Report - New York Yankees
Pitching wins championships.
Nobody has been better in Major League Baseball than Detroit Tigers' starter Justin Verlander. He was the guy that was ready to set the tone of the series, but instead, rain decided to wash away Game 1. Now, Verlander can't go and the Tigers aspirations rest on the rest of their rotation.
The Yankees will prove their offense will be too strong for the Tigers to handle.
New York is second in runs (867), seventh in batting average (.263), second in on-base percentage (.343) and third in slugging percentage (.444). It has what it takes to overcome its lackluster pitching.
Verlander has averaged some 20 pitches per game against the Yankees in his career. He hasn't seen the same success against the Yankees as he has seen against other teams.
The rest of the Tigers' pitching staff is hittable. If the Yankees were facing the Phillies, then maybe they would be in trouble. New York should be able to put runs on the board at a solid rate against Detroit.
The Yankees' lineup features two players with 39 home runs or more in Curtis Granderson (41) and Mark Teixeira (39). Eight players have hit 10 home runs or more in 2011 and three of those players have knocked in 110 or more RBI.
A team that has so much firepower on offense will always be in the game unless the opposing pitchers dominate the batters.
New York has been through everything in 2011. It has seen its share of adversity, but have persevered through everything.
The team won 97 games because of its offense and it will continue to win games because of that.
Detroit has a great chance to beat the Yankees because anything can happen in baseball and that's what makes it a great game. However, Verlander won't be enough to slow down the Bronx Bombers.
Read more New York Yankees news on BleacherReport.com