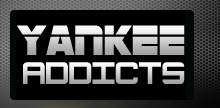 February 15, 2010 · Bronx Baseball Daily · Jump to comments
Article Source: Bleacher Report - New York Yankees
But a few are arriving early.
According to Anthony McCarron of the Daily News, Curtis Granderson reported to camp today. He joins a group that includes Derek Jeter, Francisco Cervelli, and Eduardo Nunez. Pitchers Phil Hughes, Joba Chamberlain, Boone Logan, David Robertson, Alfredo Aceves, Chad Gaudin, and AJ Burnett are also there.
Position players aren't supposed to report until Feb. 24. So while everyone is early, the position players are very early. Although this is nothing new for Jeter who reports early every year.
McCarron also reported that Granderson has no problem switching from center to left field, but we already knew that. He's been working out along with Gardner in center with coach Rob Thompson. I've also heard that just for versatility sake Gardner has been working out in right field. If I find the link where I heard that I'll update this post.
Related Stories
Read more New York Yankees news on BleacherReport.com