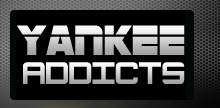 December 1, 2011 · Doug Rush · Jump to comments
Article Source: Bleacher Report - New York Yankees
Since the free agency period began for baseball, we've all wondered just how genuine the interest was from the New York Yankees in C.J. Wilson.
From what it looks like now, it seems like there is no interest.
According to Andrew Marchand of ESPN, Bob Garber, the agent for Wilson, requested a meeting with the Yankees and they have told Wilson and Garber no.
It's the right move for the Yankees and GM Brian Cashman to make because Wilson is not worth the money he is demanding from teams; which is around five or six years and over $100 million.
The 31-year-old left-hander pitched well in the regular season, posting a 16-7 record with a 2.94 ERA with the A.L. Champion Texas Rangers.
What may have diminished his value was his poor pitching in the 2011 postseason, where he posted an 0-3 record and a 5.79 ERA.
Wilson has made visits with the Los Angeles Angels and the Miami Marlins. Garber had hoped they could visit with the Yankees, but it seems like after hearing what kind of money Wilson is demanding, the Yankees are going to wisely pass.
Wilson on the Yankees would be no better than a No. 3, maybe No. 4 pitcher. His control can be wild at times, and as we saw in the playoffs, he had a lot of problems getting people out in crucial games.
Considering the Yankees are always in contention for October baseball, the last thing they need is another player who would crumble in pressure situations.
So far, Cashman has been preaching patience and he may be waiting for the winter meetings, which will begin in Dallas next week, to start making moves.
He already locked up ace CC Sabathia to a contract extension on Halloween night and re-signed Freddy Garcia to a one-year deal on Thanksgiving Eve.
But many do not feel the Yankees are done, because with the rotation as is, it's not good enough to win a championship.
It might be good enough to win the division and get to the postseason, but as we saw in the 2011 ALDS against the Detroit Tigers, it just wasn't good enough to go far in the playoffs.
We've heard rumors of the Yankees having interest in Cubs starter Matt Garza, which would make sense for them if it didn't cost them prospects like Jesus Montero or Manny Banuelos.
In my last story, in which I was in favor of the Yankees trading for Garza, I thought trading Dellin Betances would be a way to get a deal for Garza, but not for the other two top prospects.
Other than Garza, there really haven't been rumblings of the Yankees being interested in any other pitchers this winter.
At least, not yet.
But if the Yankees pass on Wilson, it's the best move for them. They don't need to fork over $100 million on an overrated pitcher
As the Yankees are practicing patience, Yankee fans will have to do the same in their hopes for the team to bolster the starting rotation.
Stay tuned, Yankees Universe.
Read more New York Yankees news on BleacherReport.com