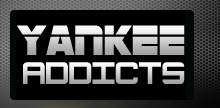 November 15, 2011 · Doug Rush · Jump to comments
Article Source: Bleacher Report - New York Yankees
This week began the General Manager's meetings, which were held in Milwaukee.
For Yankees General Manager Brian Cashman, he only met with one agent, but it's the agent of two of the most sought after pitchers this winter.
According to Wallace Matthews of ESPN, Cashman and Bob Garber had a meeting in Cashman's hotel room at the Pfister Hotel to discuss his free agent client pitchers, Rangers left-hander C.J. Wilson and Phillies right-hander Roy Oswalt.
Cashman said he did not make any offers to Garber for either pitcher, but the two were just having preliminary discussions.
Garber did not divulge any information regarding any offers or numbers involved in the meeting with Cashman, but did say the Yankees are definitely one of the finalists that they will deal with when it regards to Wilson.
So far, it sounds like nothing more than the courting period, which is expected.
But there is a twist into this development.
According to Marc Carig of the Newark Star Ledger, Wilson and Garber have been invited to New York to meet with the Yankees front office decision makers like owner Hal Steinbrenner, director of pro personnel Billy Eppler and Cashman himself.
Garber said that he likes the Yankees' aggressive approach to their discussions with Wilson, which is why a meeting will likely happen in New York.
Garber even went as far as to say, "I think Brian (Cashman) is in a situation where he doesn't want what happened with Cliff Lee again."
Meaning, the Yankees wait around all winter for an answer, and then only to be snubbed, which is exactly what happened with the Yankees in their pursuit of Lee last winter when he turned down more guaranteed money and years from the Yankees to return to the Philadelphia Phillies.
Now, Wilson is by no means a true ace like Lee. If anything, Wilson on the Yankees would be more of a No. 3 pitcher.
People around baseball have expected that Wilson could command a contract of five years and $90 million, which is in the range of A.J. Burnett and John Lackey in their respective contracts.
Wilson was 16-7 with a 2.94 ERA with the Rangers in 2011, but pitched poorly at times for Texas in the postseason.
The subpar October doesn't appear to have stifled the Yankees' pursuit of the lefty this winter.
If this meeting with Wilson and Garber happens with Cashman, Steinbrenner and Eppler, it should be interesting to see if a contract is presented afterward, and if Wilson and Garber will continue to explore other options with teams.
I don't think Wilson will sign immediately. He knows he has other suitors that are after him this winter, so it could be a like another Cliff Lee situation where he doesn't end up signing until mid December.
But from the looks of things, it appears the Yankees' courtship of Wilson is getting even more serious.
But on what level of seriousness is the pursuit going to be? That's the question we will all have to figure out in the next coming weeks with these talks.
Stay tuned, Yankees Universe.
Read more New York Yankees news on BleacherReport.com